This is the first post I wrote for 5MFF. I thought it might be a good time to share it again. A reminder that He will never leave us to cry alone. If you're hurting – physically or emotionally weak, tired, or worried. If you feel like you're alone….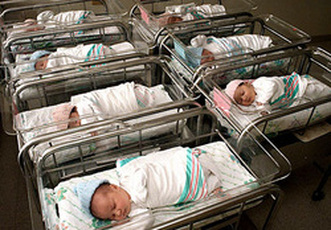 I remember the birth of our first child like it happened yesterday. She was born on her due date, following a mercifully manageable labor and delivery. Her first cry was strong and healthy, and her daddy and I praised God as we cried right along with her.
Over the next few days, she stayed in my room, and I learned more and more about caring for her, her unique needs, and how to best soothe her. The last night in the hospital I decided to get a little extra sleep before beginning my 24/7 responsibilities. So, I asked the nurse if she would take my daughter to the nursery that night.
She wasn't gone ten minutes, and I could hear her crying. A floor filled with moms and babies, and I could hear my daughter's cries. I padded down the hall and asked to have her back. They handed her to me red faced and teary eyed, and I whispered into her ear that I was there to care for and comfort her. Within moments she was settled, and we were back to our own room to rest.
Our awesome Heavenly Father is like that. Even though you may be one of many of His children, He will always come to soothe you, to care for and comfort you. God knows your voice and hears your cry. Like my precious little one who was only comforted by the sound of the voice she was growing to count on; you and I are best comforted by our Father's voice, the voice we can count on and trust.
The more carefully we listen to His voice through His Word and spend time with Him in prayer; the greater our trust in Him grows. Our Heavenly Father is able to comfort us like no one else because He knows our needs and wants what is best for us. His overwhelming love and amazing grace is close enough to hear each quiet sigh and see every tear that falls.
Psalm 145:17-19 reads; The Lord is faithful to all His promises and loving toward all He has made. The Lord is near to all who call on Him, to all who call on Him in truth. He fulfills the desires of those who fear Him; he hears their cry and saves them. (NIV)
I could not leave my daughter in the hospital nursery crying without going to comfort her, and our Heavenly Father will not leave us to cry alone. He will always comfort us with His love and His mercy.
Cast your cares on the Lord and He will sustain you; He will never let the righteous fall. Psalm 55:22 (NIV)
Casting the whole of your care [all your anxieties, all your worries, all your concerns, once and for all] on Him, for He cares for you affectionately and cares about you watchfully. 1 Peter 5:7 (AMP)