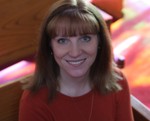 Although I have always been a Christian, my faith journey over the past few years has been more fulfilling than ever. I have grown closer to, and more dependent on God than I have ever been, and I love it! As I grow closer to Him, I become more passionate about instilling my faith in my daughter, and sharing what He means to me with others.
I was slow to make my way into social media until God laid it on my heart to start an online Bible study for women. I had no idea how to start, but He led me every step of the way. The online studies have continued, and are open to all women. Through the studies, I've grown to love writing for God's Kingdom and encouraging women as they grow closer to Him.
You can find me at Laura Rath ~ Journey in Faith where I share from my heart and encourage others in their walk with the Lord.