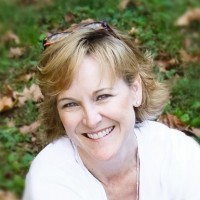 I'm a writer and Christian speaker who loves Jesus and sees God EVERYWHERE. I see Him in a sunset, at the mall, in the laundry room… No matter where I turn, I see evidence of His handiwork and I hear His voice!
I love sharing those insights with others, and want to help them understand His Word so they can recognize where He is at work in their lives. Becoming sensitive to Him helps us feel His love, discern His guidance, and grow in our faith. He loves us SO MUCH and yearns for us to experience more of Him!
My husband and I have been blessed with two wonderful children, and our empty nest is in the beautiful mountains of Virginia. We love to travel, and I especially love international adventures. I've taken several mission trips and have been to Israel four times. All those Holy Land trips instilled a special love for the Jewish people. "Good Lord willin' and the creek don't rise," I'm planning to return in 2014 to hike the 40 mile Jesus Trail!
My life verse is Romans 15:13 and it's my prayer for you:
May the God of hope fill you with
all joy and peace as you trust in Him,
so that you may overflow with hope
by the power of the Holy Spirit.
It'd be my great honor to connect with you on my website, Twitter, or Facebook.