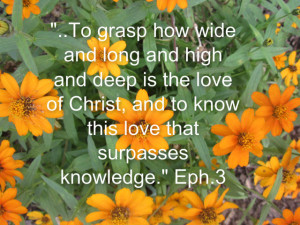 If I could only write to you one more time, I would tell you this little story.
I sat in large circle with the rest of our church staff. I was with my favorite friends doing one of my favorite things. We were praying for one another and listening for the individual messages that God wanted to share with each person in the circle. We loved that God still speaks and this trusted group of people enjoyed the freedom to be His messengers with one another.
I listened to the prayers and messages given to my friends. "The Father has designed you to carry influence with governmental leaders." "God is going to use you to help free women from the slave-market." "You are so full of creativity. You will be using your painting and artistic ability to glorify God."
Now it was my turn. I close my eyes to concentrate and be able to hear every word that God wants to speak to me. "Wow Susie, God just really, really loves you! Every thought of you brings Him deep pleasure."
WHAT?! Of course God loves me. He loves everyone! That's the very first song we learn as little kids in Sunday school! Yes, Jesus loves me, this I know. It is the most basic, foundational truth we all know! I already KNOW this. Where is my big prophetic message?
This same scenario played out many times over in my life. I kept hearing the same message from God, over and over again. "God loves you so much!" I was getting a bit grumpy about it, to be honest. Where was my big direction for my life? What did God design me to do?
Finally this slow learner caught on. The single most important message that I can share with you is that God loves you. It is a simple message. And it is a very difficult message. God knew that I did not believe it completely. He saw me rushing around, working hard in the church to gain His love and acceptance. So the only message He kept sending me was that I am loved.
The reason we have a hard time believing this truth is this; we think that God's love is like our love. Our love for one another can shift and change and grow and shrink. As much as we say that our love is unconditional, I'm not sure we can live it honestly. But His love IS unconditional. Completely without strings.
We cannot outrun it or escape it. God is delighted with his children. All of us. He sees the good, the bad and the ugly, and still He loves with abandon. Our actions simply do not affect His love toward us. If God could love us more on some days than on others, it would mean that His love is conditional and less than perfect. Are you willing to make that accusation of him?
"I pray that you, being rooted and grounded in His love, may have power, to grasp how wide and long and high and deep is the love of Christ, and to know this love that surpasses knowledge – that you may be filled to the measure of all the fullness of God." Ephesians 3: 17-19 NIV
Ephesians 3: 18 to 19 reminds us to seek to know the love of God, which is too much for us to understand. This passage is a call to get out of our minds. It is a challenge to those of us who tend to over-think and ultra-analyze our every waking moment. My desire to have everything understood and figured out can hold me back from grasping His love because it is simply too big for me to comprehend.
If we wait until we can understand God's love, we will never be able to truly enjoy it and rest in it. God's love for you is limitless, without boundaries or borders of any kind. Another Bible version says, "understanding the love of Christ which passes understanding."
Sadly, many of us miss out on the fun of His love because we are using our heads to believe it. Remember the Ephesians passage? His love will not fit in our heads. It does not compute. It makes no sense. It is illogical. We are to seek to know the love of God because He wants us to know Him better. His love is who He is. There is no separation between God and the love of God, it is not a part of Him, it IS Him. God IS love.
So Dear Reader, the simple message you are here to gain today is just this…God loves you! He loves you completely and without reservation, today, at this moment. Thanks for allowing me to be the carrier of this important message today!