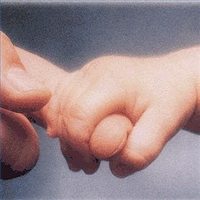 I was never a nervous or controlling person growing up. I always thought of myself as pretty relaxed and down to earth. Then I got married and had children.
When my children were small, I remember how every little thing concerning their young lives was such a huge deal. My life became rigorous and scheduled, as opposed to care free and spontaneous. As my children grew older, I became a very anxious and controlling person. It was not something I ever expected to be, it just was. I remember standing in the doorway of the bathroom as my daughter brushed her hair and got ready for school to "make sure she did it right". I remember hovering over my children as they did their homework to make sure their penmanship was just right and that they answered every question correctly. If the work was messy, I would have them erase it and do it over.
What I did not realize back in the early years of parenting was that the perfectionist in me was coming out swinging and the blows were aimed directly at my innocent children. Everything was a battle, not because they were disobedient but because I chose to make a big deal out of everything.
As a mother, it is my responsibility to help my children become productive adults, not perfect human beings. But because I was insecure and felt like I was doing everything wrong, I tried very hard to be the perfect mother and to make my children appear perfect in everything they did. But then I had a wake up call and realized I am not the perfect parent and have fallen short of perfection many times as a mother.
Can I tell you a little secret?
I don't think I've ever done this mommy thing perfectly. As a parent, I have been given the enormous, yet very fulfilling and rewarding task of raising other little human beings. And because I will never be perfect, I must accept the fact that at times I might even fail my children. And in those times I will have to swallow my pride, humble myself and ask their forgiveness. And it's accepting that my children, as wonderful as they may be, will never be perfect.
It's turning a blind eye when my daughter insists on wearing the same pair of jeans that has two huge holes in the knees to school every day when everything inside me wants to scream.
It means saying "great job honey" when you look at a far from perfect essay that could use a little rewriting.
It means saying "you are beautiful" even when your child's hair isn't perfectly brushed and they missed a spot while washing their face.
I am so thankful that I have a perfect Heavenly Father who is so patient and full of wisdom to teach me how to parent my children. I am beginning to accept that I am a good parent, but far from perfect.
If any of you lacks wisdom, you should ask God, who gives generously to all without finding fault, and it will be given to you. (James 1:5 NIV)