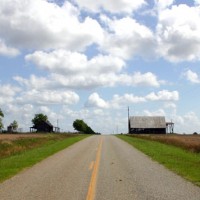 "Making the decision to have a child – it's momentous. It is to decide forever to have your heart go walking around outside your body." -Elizabeth Stone
There was a time when I thought this road called Motherhood would one day become breezy.
One day when ear infections and the middle-of-the-night stomach flu were a thing of the past. One day when homework no longer required my assistance and lunches no longer needed packing. One day when they'd shop for their own clothes and purchase the extras with – could it be – their own money.
Now I know differently.
There are no breezy sections on this Motherhood Road.
Whether our children are two, twenty-two, or forty-two, we feel their pain in a way that is so exquisite that there is yet to be a word created that would aptly describe it. It takes us to the very brink of all we think we can feel or think or experience…and then the very next day it surprises us all over again in completely new ways.
It has been said that pain is the best teacher in the world. And while a part of me really wants to balk at this, particularly in the case of motherhood, I find that I still agree with it.
The pain of motherhood – of loving this extension of yourself so much that your heart bleeds when they hurt – teaches us about what is good and right and truly important in this world. More and more these days, I am reminded of what is no longer fundamentally important to me. Instead I cling to what I know.
And I know that my purpose is to love and to nurture and to find joy in the simple things.
The lesson that's been on my plate lately – the same one I've had to repeat several times – has been one on acceptance. Accepting what is and letting go of preconceived expectations and even plans and goals I may have had for my children. What I'm learning is that in letting go I am receiving something so rich and so full that my mother's heart almost can't contain it all.
Your eyes saw my unformed substance;
in your book were written, every one of them,
the days that were formed for me,
when as yet there was none of them. – Psalm 139:16
 I am receiving the fullness of joy that comes with true peace of mind.
And that's pretty breezy, let me tell ya!