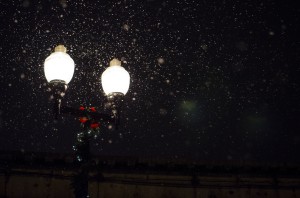 I'm guessing the manger wasn't on Mary's birthplan.
We like to sanitize the nativity story in our imaginations. Mary kneels calmly over the manger, with cattle lowing and Baby Jesus asleep on the hay. Joseph leans on his staff in quiet awe while shepherds and peaceful sheep stare in wonder. We forget the work of birth that comes in blood and sweat and tears. What was it like for Mary, that first Christmas night? Did her mother go with them on that three-day journey to Bethlehem, or was she alone with this man she'd been married to for less than six months? Where was Mary as she brought God's own son into the world–was it the stable we so often imagine? A cave? An open pavilion for travelers? We don't know. However it happened, I doubt Mary had ever imagined putting her newborn baby down to sleep in a feed trough. A manger was hardly the bed you'd choose for the king of kings.
That first Christmas wasn't perfect, but it was absolutely right. God made a declaration through Jesus birth:  there was now good news for all people. Jesus didn't just come for the priests and kings or  the rich and the powerful. He came for us all. On the night of his birth Jesus didn't choose palaces and princes, but a humble peasant girl, a crowd of shepherds, a feed trough, and angel song. It wasn't perfect, but it was glorious.
Every year I feel the pressure to have the perfect Christmas. I want it all:  the tree glowing with lights, the house beautifully decorated, perfect portraits of children in their holiday best. I want the homemade goodies and color coordinated wrapping paper, the gifts for teachers and Christmas carols on the radio. I want to hold in my memory a shining moment where I had  it all together and it was absolutely perfect.
But I've found that in pursuing the perfect we lose the power of Christmas. Jesus didn't come for our sanitized selves. He came as a physician for the sick and the healer for our brokenness. He stepped out of heaven's glory into our darkness and became light. He came for the outcasts and the forgotten. He came for those who were desperate for hope and for the slaves longing for redemption. He saw our filthy rags and Jesus–Emmanuel–God with us–came to clothe us in righteousness by his blood. Hiding our mistakes only insulates us from the truth:  Christmas is the celebration of a God who answered our deepest needs by giving us the gift of his only Son.
Let's let go of the myth of a perfect Christmas. There's no such thing. Sing the songs, wrap the presents, and decorate the tree–do what fulfills you and reminds you of the beauty of God's gift to us. But don't hide your brokenness. Rejoice that God sent Jesus to rescue, redeem and restore. Let go of other people's expectations and your own fears of disappointing them. Keep it simple and love them well. Maybe the tree is a little lopsided, the carols are off key, and a few of the cookies are burnt. It's okay. Jesus is born. Don't settle for a sterile, perfect Christmas. Christmas was never meant to be perfect. It was meant to be glorious.