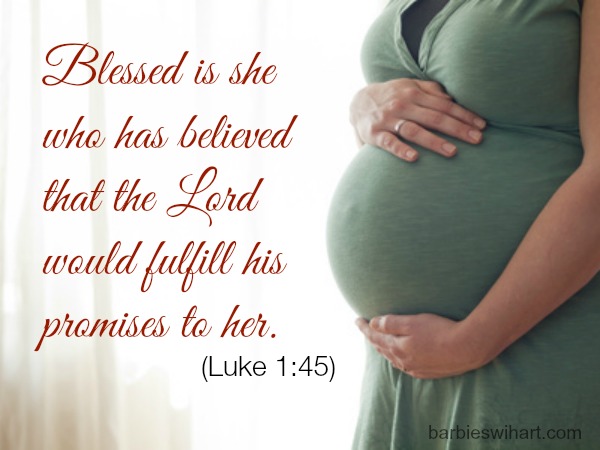 These words have stuck out to me in my Bible reading this week. In context, this is Elizabeth speaking to Mary. When Mary came to visit Elizabeth, the unborn child in Elizabeth's womb lept for joy as soon as Mary's voice reached her ears. Elizabeth told Mary she was blessed, because she believed that the Lord would fulfill His promises to her.
Advent is nearly over. I've been waiting, reaching, hoping, trusting, battling to stay full of faith in this season. I've been waiting for the Christ child, He who is coming, but has already come, and will continue to come again and again to my tired and weary soul.
Christmas is the fulfillment of a promise, one made so many years ago and spoken of by the prophet Isaiah,
For to us a child is born,
    to us a son is given;
and the government shall be upon his shoulder,
    and his name shall be called
Wonderful Counselor, Mighty God,
    Everlasting Father, Prince of Peace.
(Isaiah 9:6)
The life in Mary's womb was the fulfillment of the promise of the Lord, not only to a people many, many years earlier, but to Mary, whom the angel visited and shared the news that she would bare the Son of God.
I've been thinking of my spiritual womb these last few days. Although I am beyond child-bearing years, there is still life in my womb. There are promises that are waiting to be fulfilled, things the Lord has placed deep inside my heart that I desire to see come to pass. At times my womb can feel lifeless and empty, but then God comes and breathes hope afresh and anew.
My womb contains the promises of the Lord that have been spoken over my life that are still waiting to be birthed.
This Christmas, my prayer is that your spirit would leap for joy at the prospect of promises yet unfulfilled coming to pass. May you reach down to the very depths of your soul and call forth the life that is in your womb. Perhaps you long for a child, or perhaps your marriage needs healing. Maybe God has promised that your children would return to Him, or that you would go to the nations and speak words of hope and healing.
Do you trust the Lord's perfect timing to fulfill that which He has promised to you?
It's Christmas day, the day when we celebrate the fulfillment of the promise of a Savior.
You are also pregnant with promise today. Will you trust that in due time, you will see the fulfillment of His promises over your life?
Wishing you and your family a beautiful and blessed Christmas!