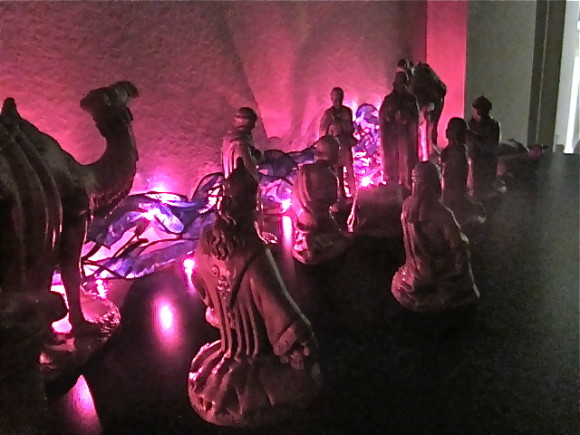 What made them bow before a toddler? I quickly reached for a pen when I heard that question posed to the church congregation. (Sadly, I did not hear the rest of the message because this post was being unintentionally written in my head.) There was something jarring about it that resonated with me, and being a lover of words, this little sentence was a great one that I knew I would be exploring further.
The stories of the nativity tend to have a fairytale feeling to them don't they? We hear them so often and many of us heard them first when we were children. Sadly, that simplistic fable-like quality stays with the Biblical stories of shepherds, angels and kings long into our adult lives. It is so easy to forget that the characters in the Christmas stories were real live people who were not that different from us. They must have had a few questions, don't you think?
Since hearing those words, "What made them bow before a toddler?" I have been turning it over and over in my mind and heart and my only answer is that the famous shepherds and the royal wise men must have had some kind of major encounter that caused them to bow before a baby, a toddler who looked like any other in the world.
We know that an angel appeared to the shepherds while they were doing what they always did; watching sheep, sleeping, sitting around a campfire talking and laughing. Am I the only one who has become so used to hearing that "an angel appeared" that it actually sounds normal? But it was most definitely not normal! Those poor sheep chasers were freaked out! An angel APPEARED from out of nowhere, from out of the darkness and he or she had to say, "Don't be afraid, I'm bringing you some good news!" (Luke 2:8-18)
Then when the shepherds had finally begun to breath again, SUDDENLY there was a huge ARMY of angels praising and saying, "Glory to God in the highest, and on earth peace, goodwill toward men!" Would you agree with me that these words were probably shouted or declared with loud voices rather than simply spoken in quiet tones? This was a once in a lifetime supernatural encounter for the shepherds. It shook them up and once the darkness of the night returned, caused them to look at one another, and the angels disappeared, and say, "Let's go see this thing!"
The Bible says that the wise men, the appointed advisors to kings, saw something unusual in the stars and because of their training, they recognized that this star was not an ordinary one. These spiritual sky-watchers recognized the sign of a baby king spoken of through generations of handed down stories. The wise men, the intellectuals of their time, dropped their current studies and pursuits to "follow the star." This was no simple act of jumping on a plane and checking out an interesting rumor. What did their families and colleagues think of this? (Matthew 2:1-23)
These respected men must have felt a stirring in their hearts. Did they look at one another just like the shepherds did and say, "Let's go see this thing!"?
Even Joseph did not take the miracle of Jesus at face value. He too, experienced an angelic encounter to help him understand and agree to stay beside Mary through the coming months and years. He was a normal man, getting ready to marry a normal woman. In some ways, his sacrifice and obedience is greater than any of the other characters in this amazing story of Christmas! But he had an encounter. A supernatural encounter in the night with an angel telling him what to expect and what he must do. (Matthew 1:18-25)
All of these individuals were living their lives just like you and me. Until an unexpected and unexplainable encounter changed them forever. Do you think that those shepherds, wise men and Joseph were ever the same again? A supernatural encounter turned their worlds upside down (or right side up).
What made them bow before a toddler?
A personal encounter.
Something extraordinary happened to them and in them. Each one came face to face with a reality that was more real than anything they had ever known. A personal encounter with the supernatural will move you from a spectator to a participant.
Every year as the Christmas season approaches I wonder what my own personal encounter will be that year. It seems that I always have a particular 'moment' where the deep reality of what God did hits me close and sweet. That moment comes in many different shapes and forms; I never know where it will be or who may bring it. It could be in written words on a page, lyrics of a song or simply sitting in front of a lighted tree in my living room.
I pray that your own personal encounter with the supernatural side of Christmas is a rich, surprising and delightful one this year!