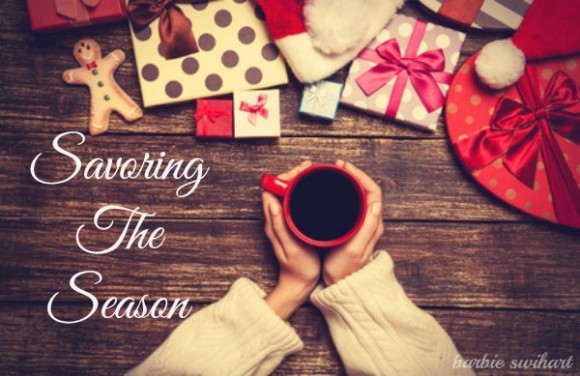 Christmas is my favorite time of year. It's so much more than brightly wrapped gifts, and twinkling lights. It's more than the carols that we sing and the perfect photo opts.
Growing up, Christmas meant family. When I was younger, my family and extended family would all gather at my parents' home. We would sit in front of the fire, feast on sugar by way of candy canes and freshly baked cookies. We sang carols, played board games and just enjoyed being together. It wasn't important if there were a lot of gifts under the tree. It wasn't important if we were dressed to a tee. What was important is that we were together.
This year, I want to bask in the glory of all that Christmas is — the awe and wonder, joy and laughter, the bringing together of friends and family, all who come to delight in the presence of the One who is worthy to receive the gift of our hearts.
Savor: 

relish

, 

enjoy (to the full)

, 

appreciate

, 

delight in

, 

revel in

, 

luxuriate in

, 

bask in

.
In order to fully appreciate all that this season has to offer, I must slow down. It's so easy for me to get caught up in the hustle and bustle of the season. I run from here to there, checking things off my list and seeking out the perfect gift. But I don't want to miss Him. I must be purposeful and intentional in creating room for Him.
Here are just a few, random ways that I am savoring the season this year:
Finding joy in small giving.  Gift-giving will be small this year (not that we've ever gone over the top), but it's helping me to align my heart with what truly matters. I may not be able to give a lot of material things, but I can give my time, my heart, and my ear to someone in need. When I choose to see that the gift is truly in the giving of myself to others, it helps me to realize that there is One who came lowly and humble and gave Himself just for me. Wrapped up in that small gift of a babe in a manger was an entire lifetime of love, joy and peace. I wonder what blessings await others in my small giving.
Advent.  I bought a Jesse Tree this year and am being more purposeful in learning about the journey of Christ's birth. Each night I hang an ornament on my little tree that reminds me that Jesus was from the very beginning of time. As I take the time to intentionally slow down and study the genealogy of Christ, it is helping me to bask in the glory of creation and how God came for all of humanity, how he wants for all to come to Him.
Baked Goodness.  I am not a baker by nature, but I love making a few different types of cookies during Christmas, especially the ones I helped my mom make when I was younger. I love the way the house smells when the baked goods come out of the oven. The smells and tastes of Christmas help me to realize that God is good, always. I've tasted and I've seen His goodness in so many ways. He does not disappoint. Even the stings of life are overcome by His goodness.
Oh, taste and see that the Lord is good! (Psalm 34:8 ESV)
Slow Sipping.  There will be lots of coffee and hot chocolate to be had. There is something about the slow sipping and how the warmth hits my stomach and makes me feel alive, nurtured and all warm and cozy. There is so much in life to be enjoyed. The slow savoring of a hot beverage says, "Come, breathe Him in, let love warm your heart."
I pray that you will find ways to savor the season of Christmas this year.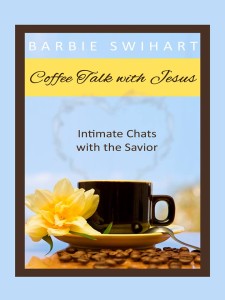 I'd like to help you with that by offering one reader a copy of my book, Coffee Talk With Jesus: Intimate Chats With The Savior. These are love letters from the heart of God to His daughters. They are short, but are meant to be read slowly and contemplatively. All you have to do to enter is to leave a comment on this post and answer this question:
What is one way you will slow down and savor the season?
The giveaway will remain open until 9PM (PST) on Sunday, December 14th. At that time, I will draw a winner at random and notify the winner via email. (*U.S. and Canada only. Winner must have a valid email address.)