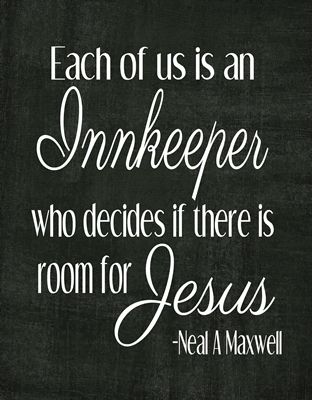 Christmas is not to far in the distance anymore so I thought this would be a great message to share. After reading Luke 1 and 2 I found myself marveling at the differences in the birth of John the Baptist and Jesus the Messiah. It's pretty remarkable to see how God wanted John's arrival to be revealed at the center of the Jewish nation, but he picked for Jesus to be born in a manger. Another interesting point revealed to me – John was the son of Zechariah, a priest and his mother was also highly looked up to. Jesus's parents, Mary and Joseph, were just average Jewish people.
Truly, Truly, I say to you,… (Yes, I am using Jesus's awesome words!) it's in the birth of Christ that God's majesty is truly shown to all. I mean, if you really think about it, God's one and only son was born in a stable where animals were put. Could you imagine what was inside and not just that… but how it probably smelled? Mary and Joseph were told by a innkeeper that there was not enough room for them. Yet they both pressed on! They were faithful that God would take care of them no matter where they had to go. [Are we like Mary and Joseph? Or are we like the Innkeeper? Do we not have room for Jesus?] These things that happened TRULY show the grace of God and His great love for US people regardless of our social ranking. Jesus, the savior of the world, came here humbly and lived a life of complete humility as a faithful servant of God and man.
A few other things that really stuck out to me in Luke Chapter 2 was the praise from Heaven, the shepherds and Mary. With how humble the place that the Lord was born, it still brought forth the presence of Angels. AMAZING….
After Mary gave birth to Jesus this is what happened:
"And there were shepherds living out in the fields nearby, keeping watch over their flocks at night. An angel of the Lord appeared to them, and the glory of the Lord shone around them, and they were terrified. But the angel said to them, "Do not be afraid. I bring you good news that will cause great joy for all the people. Today in the town of David a Savior has been born to you; he is the Messiah, the Lord. This will be a sign to you: You will find a baby wrapped in cloths and lying in a manger." Suddenly a great company of the heavenly host appeared with the angel, praising God and saying, "Glory to God in the highest heaven, and on earth peace to those on whom his favor rests." When the angels had left them and gone into heaven, the shepherds said to one another, "Let's go to Bethlehem and see this thing that has happened, which the Lord has told us about." Luke 2: 8-15
Could you imagine what those shepherds felt like when this happened? I mean really, this is incredible. So much is happening here after the birth of Christ. All of heaven is beyond JOYFUL for Jesus has came into the world to complete God's work. Jesus's arrival is so big that it arouses pure joy inside the hearts of the shepherds to go out and tell everyone the great news. Even when the shepherds return to the manger they begin to worship God [Luke 2: 20 "The shepherds returned, glorifying and praising God for all the things they had heard and seen, which were just as they had been told."]
Mary sat in the manger, deeply thinking about these things [Luke 2:19 "But Mary treasured up all these things and pondered them in her heart."] All of this that is going on has Mary very attentive. Shepherds are worshiping God because of her Son and all of Heaven is rejoicing. I don't know about you but Mary is one pretty awesome woman to handle this!
My prayer for you all is to remember the significance of the Birth of Christ, right now, not just on Christmas. It's a time to be joyful e v e r y d a y… because Jesus was amazingly born into our world and conquered death for ALL of us!! Amen, amen, amen! Have a blessed day everyone, praying for you all. Xo – Laura