I originally wrote this a couple of years ago for my personal blog. I've been praying for the right season to share it here. I hope it will bless and encourage your heart today.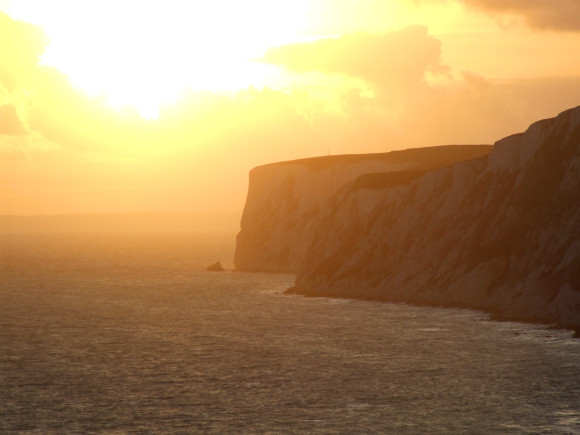 She stood at the edge of the cliff. With the sun beating down on her face, she could feel the cool breeze as it brushed against her checks. The smell of evergreen filled her senses as she took a deep breath. She stared ahead of her, eyes fixed on the other side. Her heart filled with passion, longing and desire. Yet she stood, at what seemed like the edge of all things.
How did she arrive at this place? She tried to stay the course, to stay on the right path throughout her journey. Did she ignore the signs along the way? Was this rocky cliff, high above level ground, to be where she met Him? But as she stood looking out as far as her eyes could see, she did not waiver. Yes, she had come to the edge. But something inside her told her to wait. And so she stood, with her feet firmly planted. She postured her heart to not be overcome with disappointment. She would not allow her ear to entertain the thought that she had veered off course or taken a wrong turn.
"Meet me at the edge of the cliff".
If she had her wings, surely she would take flight, soaring high above the mountaintops. She would journey to the other side. Perhaps He was there, on the other side, awaiting her arrival. Should she turn? Should she run to the other side to meet Him? But the still, small voice inside of her spoke words of comfort and hope as she stood, staring out at the vast expanse before her.
"Wait".
She could feel anxiety rising up within her. Whispers of doubt threatened to overcome her steady heart. It took all of her strength to push down these feelings. What if He doesn't come for me? But she stood firm, obeying the voice inside her heart.
"Be still and know."
Morning came and went and with the setting of the sun, the dark and bitter cold threatened to cause her to run and hide, to take shelter from the storm. She was chilled to the bone, yet she did not move. Standing firm on The Rock, her feeble knees gained strength as the voice spoke words of hope to her heart.
"Do not fear."
She closed her eyes, drifting off to sleep. In a dream now, she was carried, with wings as an Eagle, to the other side. To the place where He was waiting. He stood before her, with arms open wide to receive her. Her heart was filled with a peace and joy she had never known before.
"Wait, and you will be strengthened."
As the sun arose, she could once again feel the warmth on her skin. She was awake now. It was only a dream, yet the reality of it overwhelmed her. She took another deep breath, as hope replaced her anxious thoughts. She exhaled every thought that threatened to move her prematurely.
And then she heard Him. He called to her. It was but a whisper, yet it echoed from across the valley, from the other side. She felt as if her knees would buckle from underneath her. She anticipated this moment as long as she could remember. And now, it was finally here. Yet she felt paralyzed and gripped with fear. "What if I am not what He had hoped for? What if I fail? What if I make a mistake?".
The still small voice spoke to her, this time with an authority she had never heard.
Don't be afraid, for I am with you.
Don't be discouraged, for I am your God.
I will strengthen you and help you.
I will hold you up with my victorious right hand. (Isaiah 41:10)
It was all her heart needed to take the leap of faith off the cliff. Blinded by the sun she jumped. And in that moment she felt a peace she had not known before. For as her foot left the safety of the cliff, He came in the wind and carried her to the other side.
She is fearless now. Safe in the shelter of His wings.
What is the still, small voice of the Lord saying to you today? Will you meet Him at the edge of the cliff?