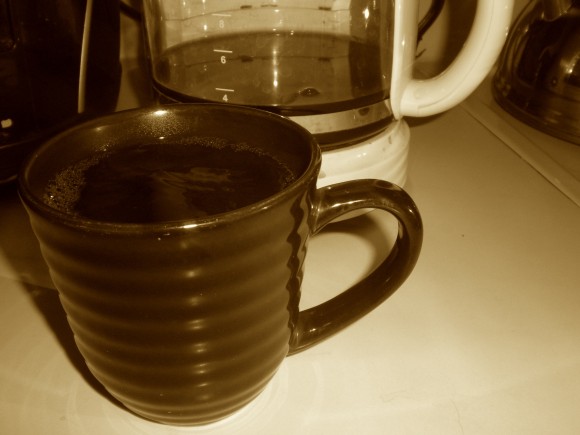 This morning Lord, I am thankful for the little gifts that you've sprinkled throughout my days…
What is it about that first sip of hot coffee in the morning? Even my inexpensive stuff from our Super Wal-Mart makes me smile in anticipation. The aroma…oh such a beautiful aroma! Thank you God, for that first sip of coffee.
My white towels are stacked on top of the washer. Folding them as I pull them from the dryer, the white fluffiness gives me pleasure. Why didn't I think of white towels and bleach when my sons were little? So easy! Thank you God, for my folded towels.
Colorful slipper socks. As a work-at-home writer, I have a new appreciation and delight in putting on a fresh pair of pink, green or red slipper socks. So silly! Thank you God, for comfy cozy slipper socks.
In a tiny blue bowl on my left there is a little treat that has become one of my writing tools. I love my Good & Plenty Candies! The tiny pink and white candy-coated licorice pellets could be compared to the M & M's I gave my sons during potty training. "Look mommy I went potty!" is not so different from "Look, I wrote a paragraph!" I suppose. Thank you God, for sweet treats.
Everyday I get a short phone call from my husband on his lunch break at work. I love it. I stop what I am doing and we talk about the goofiest things. I'm pretty sure that my anti-social hubby is using me to keep from talking to his co-workers in the break room, but that's okay. We're a team and it's a good reminder to defrost the meat for dinner. Thank you God, for lunchtime phone calls.
 "Give thanks to the Lord! Make known His deeds among the people.
….talk of all His wondrous works!" Psalm 105:1,2 NKJV
Susie