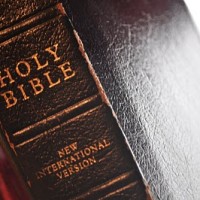 I have been reflecting on God's goodness over the past couple of months. There are so many ways that He has blessed, encouraged, brought healing, provision, strength, hope and joy to my life. In all of these areas, I have seen His immeasurable goodness towards me and I am so grateful.
Over the last couple of days I have been meditating on this Psalm:
Taste and see that the LORD is good; blessed is the man who takes refuge in him. (Psalm 34:8 NIV)
I don't just want to SEE the goodness of the Lord, but I want to TASTE it! Jesus said,
"I am the bread of life. He who comes to me will never go hungry, and he who believes in me will never be thirsty. (John 6:35 NIV)
I absolutely LOVE bread. As a matter of fact, it's a weakness of mine when it comes to food. I love how it tastes, hot out of the oven, with warm butter slathered all over it. I can never just have one piece! The Word of God is so much more lasting and satisfying than this. And the best part is I can have as much as I want!
Tasting of the goodness of the Lord results when I feast on His Word. It is the only thing that can satisfy my hungry heart. I picture God in heaven…
He's set out a banqueting table overflowing with the most delicious looking food I've ever seen. And He's calling me to come, to dine with Him, to eat of His Word. He promises to fill me to overflowing with His goodness.
I will bless the LORD at all times; His praise shall continually be in my mouth. (Psalm 34:1 NIV)
David could not help but bless the Lord. When He did, the praises He gave back to God were a direct result of the goodness of God that David was tasting by meditating on the promises of God.
I want to feast on the Word of God so that I can not only see, but taste of His goodness!
How sweet your words taste to me; they are sweeter than honey. (Psalm 119:103 NLT)
*photo credit: Heart and Soul Reflections