Mornings have often been a source of stress in our home. I can remember trying to sneak down the stairs early in the morning, eager to get at least 5 minutes of quiet time before the troops descended upon me in mass chaos. This silence which comes as our senses are waking with the morning was a coveted time for me, a pause before the storm in the day, which I considered necessary.
The waiting moments, hanging in the twilight of day's transition, often seemed just enough to let me arm myself for the day ahead. Unfortunately, there were many days that 'just enough' didn't make it.
Either the light would slither under the closed doors and prod one of my children out of their innocent slumber, or I would step inadvertently upon the creaking floorboard trumpeting the morning's wake-up call into their ears before I was fully ready to greet them. I think the days when they would beat me out of bed left me reeling the most. In all these instances, my failure to let grace rule kep me playing catch up the rest of the day.
This struggle to catch my breath overwhelmed me at times. I couldn't find a balance to the flow, and joy seemed literally non-existent. Rather enjoying my children, I sorted my to-do list in my head,  always looking back a what was undone. I missed the power of grace in action when I lived in the 'not enough'. Rather than resting in His power, I pushed forward in my own.
Grace isn't about my capability, instead  it's  fully resting in His Ability.
Our keen ability as mothers, who think we need to do it all, leads us to over analyze each of our insufficiencies, mistakes, and mess ups routinely. We give into the if-only thoughts rather than letting grace heap grace upon our hearts.
"If only I could train them better, get up earlier,  go to bed sooner, have a better schedule, etc."
These if-onlies literally wipe away the fullness of His grace leaving us empty, unable to pour ourselves into others. When failure is a constant reminder of our lack, we miss the power of receiving grace for ourselves making it more difficult to extend grace to others.
When it seems easy to give up, can I encourage you to stop and listen to the soft gentle whisper that tells you His grace is more than enough?
And he said unto me, "My grace is sufficient for thee: for my strength is made perfect in weakness." Most gladly therefore will I rather glory in my infirmities, that the power of Christ may rest upon me. ~ 2 Corinthians 12:9
The grace moment comes when we are at the end of ourselves; when we stop and let the consuming noise of not enough become silenced by the sufficient grace of more than enough.
His Grace is more than enough to walk us through the quiet and gentle streams when the valleys overflow with chaos.
His Grace is more than enough to lead us down the path of contentment when our cup runs over with out-of-control.
His Grace is more than enough to shine a light in the dark cloud of our foggy momma days.
Friend, run into the throne of grace in every moment, let mercy wash over you filling up your reservoir with more than enough, because His grace is sufficient to meet all our if-only moments in gentle abundance.
Blessings,
Dawn
 Now it's time for Faith 'N Friends Blog Hope
Top Posts from Week #9
Let Go of the Picture in Your Mind and Make Peace with Life
@ Live a Better Story by Yolanda DeLoach
Love One Another
@  Showered in Grace by Nicki Schroeder
How I Know God is With Me
@ Embracing His Will  – Guest post by Dawn Klinge
Thanks so much to everyone who shared a link!
Welcome to the Faith 'N Friends Blog Hop #9
We're so glad you're here!
This is a place to share faith, make friends, and have fun.
If you've never done a blog hop before they are super easy.
Scroll to the bottom of the list and click the Add your link button.
Add the Faith 'N Friends button to your post or sidebar.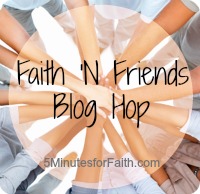 [inlinkz_linkup id=510136 mode=1]