Happy Valentine's Day!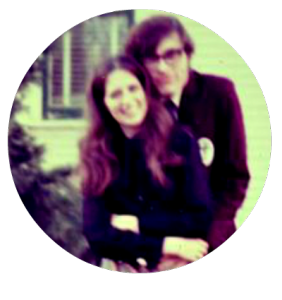 44 years ago, I waited in Rev's dorm room for him to return from his part-time job at the post office. He walked in, hugged and kissed me, grabbed something out of his top dresser drawer, and dropped to one knee.
And I said, "Yes!"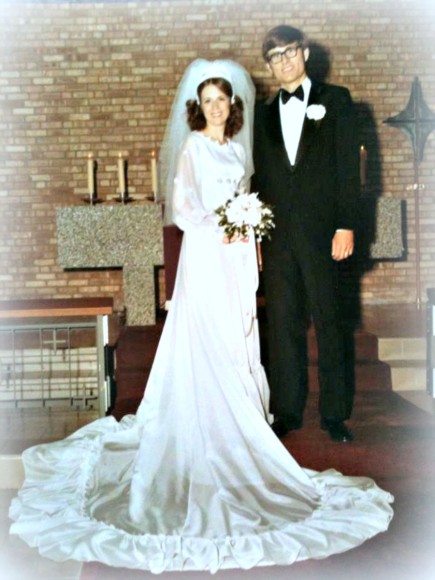 13 months later we walked down the aisle. My parents gifted us with planning and hosting a beautiful day. Mom designed and made my dress taking ideas from my favorite parts of dresses I'd tried on at Bridal stores and from pictures I showed her in Bride magazines. And Rev wrote the service as a class assignment. I'm happy to say he received an A+.
Our honeymoon was a weekend at an inn not far from home and four nights at our family's cabin surrounded by snow in northern Michigan.
By today's standards our engagement, wedding and honeymoon were simple. Not fairy-tale proposal and wedding stories . . . just a couple of kids crazy in love anxious to spend their lives together.
If you've done the math, we will celebrate our 43rd Anniversary next month. And we're still a couple of "kids" crazy in love. Sure we've experienced life—everyone does. Our marriage has come under attack a few times, but the blessing is we've always, by God's grace, worked on our relationship. Not on how things look but on how we are.
We're quick to say "I'm sorry and I love you."
We spend intentional time together.
We know each other's hearts . . . yes, we even finish each other's sentences.
I'd like to encourage you today.
We live in a reality television world where how things look is more important than how things are.
And I believe it's easy for that to be true of our faith walks. Of course that's not a reality television thing it's gone on forever.
Jesus said
"Stop judging by the way things look. Be fair and judge by what is really right." John 7:24

Jesus answered, "I am the way, the truth, and the life. The only way to the Father is through me." John 14:6
And Paul said.
I always pray to the great and glorious Father, the God of our Lord Jesus Christ. I pray that He will give you the Spirit, who will let you know truths about God and help you understand them, so that you will know Him better. Ephesians 1:17
We're blessed. We have a Father who knows us inside and out and who wants us to know Him. He's not looking for a fairy-tale story to talk about. He's looking for people who are quick to say, "I'm sorry and I love you." People who spend intentional time wanting to know His heart.
And now it's time to join the Faith 'N Friends Blog Hop
Top Posts from Week #2
Little Did I Know by Susie Klein @ Recovering Church Lady
Living Authentically by Yolanda DeLoach @ Live a Better Story
What Happened Our Year of Intense Prayer by Me @ Counting My Blessings
Thanks to everyone to shared a link!
Welcome to the Faith 'N Friends Blog Hop #3
We're so glad you're here!
This is a place to share faith, make friends, and have fun.
If you've never done a blog hop before they are super easy.
Scroll to the bottom of the list and click the Add your link button.
Add the Faith 'N Friends button to your post or sidebar.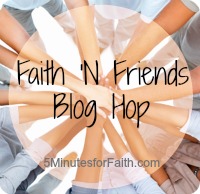 [inlinkz_linkup id=496304 mode=1]