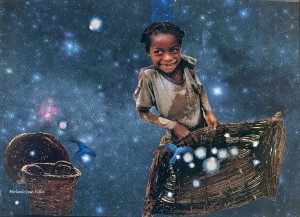 Pulling back the curtain that night I answered the moons call. Captivated by the darkness before midnight, it's star lit magnificence, I stood in silence. The moon is magical and I imagine the God cord of my heart pulling, drawing me to pay attention.
In all my days doing sometimes, it's hard to hear. The typical sounds of a life at home with children can drown out any thoughts I have of finding time to just be with God. Whether it's water running in the kitchen sink or a squabble between my tweens brewing in the next room, my focus rarely remains inward…in that space I like to be, to hear from God.
So I've gotten used to hearing him in everything. And expect him to show up in the strangest places. Because thats just the way life is and He knows it. He loves me enough to offer tailor made visions of grace when and where I need them.
That night I knew it was him when I got out of bed. I wanted to sleep but couldn't. He was the luminous light making it's way through the summer heat to find me in an apartment in Manhattan. Five stories up and feet on the floor, I surrendered to his call.
I stood in the moonlight, felt the embrace of a God who screamed through the brilliance of a million stars – REST.
And He's right. I haven't been sleeping well.
It's the endless streams of information I pour into my heart and mind before going to bed. It's the way I've trained myself to stay up well beyond a reasonable hour trying to get it all done. But I'm functioning on an average of 4 hours of sleep a night. Moonlighting after midnight is wearing me out.
Are you guilty of staying up late to get things done? Fooling yourself into thinking the Keebler elf hours are the only ones available to tackle the to do list? Disguising your lack of proper rest as a quest for "me" time?
In the restorative rest of sleep is a promise. We'll dream dreams and have visions of things He wants us to see. Sleep is holy – and lack of it over a prolonged period of time is unhealthy. Proper rest is necessary to wage an effective battle plan against the enemy. Rest is spiritual.
I love the stars, I do…but my late night life isn't helping me be a better wife, mother or in real life friend. Better to balance my twilight jaunts with a few intentionally prescribed dates with the sandman. Balance my love of all things creative with a very real need for sleep. Better to tune into the rhythm of sunrise and set. Better to use wisdom.
Message received.
I stretch myself out. I sleep. Then I'm up again—rested, tall and steady, Fearless before the enemy mobs coming at me from all sides. Psalm‬ ‭3‬:‭5-6‬ MSG
collage : Star Catcher by Mirlande Jean-Gilles