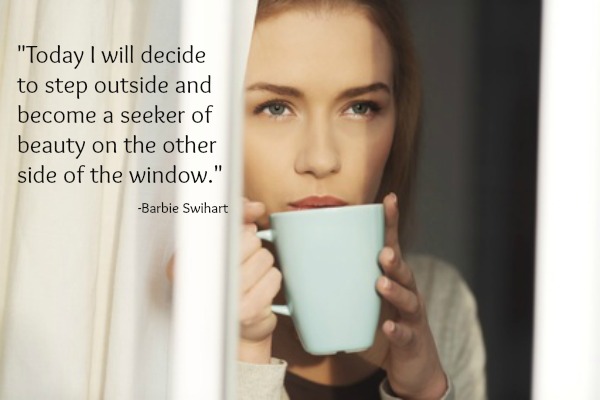 Life has been busy. So much so that I've had to put the brakes on a few of the things that I love. I know that God is working it all out. I believe that those things that I have had to lay down will be picked back up again. Life may not look the same, and I'm okay with that. Sometimes we have to empty our hands and take a step back as we allow God to adjust our view, giving us a different perspective and a better understanding of what it is He's calling us to do.
A few weeks ago I was washing dishes and gazing out the window at my son playing basketball on the patio. It was a sunny and warm day and my son was running around without a care in the world. At that moment I found myself longing to be like a child again. To run freely, without any restraint, and to not be weighed down by the cares of this world, able to find  joy in the little things.
From my view, life looked so much brighter and purposeful on the other side of the window.
It was then that God began to speak to my heart.
I have chosen to stay on my side of the window. I peer through the often dirty glass into an unrealistic view of the world around me. Oh, there is beauty to be had there on the other side. But stepping outside means stepping into the world of the unknown, a world of risk and discovery.  It takes desire, passion, and a willingness to seek after the beauty that God has placed right in front of me.
Sometimes I don't feel like putting forth the effort. I tell myself there is beauty to be had right where I am — in doing the dishes, in countless loads of laundry, in making dinner, in organizing my closets. I often compare my deepest longing for what I believe is beyond my reach, to that which I can already touch. I want to see and feel beauty, but I am willing to settle for that which is already within my grasp.
I'd rather sip a warm cup of coffee and stay where it's safe, then to allow myself to step out into the big, beautiful world of freedom and risk being disappointed.
 You will seek me and find me, when you seek me with all your heart.
(Jeremiah 29:13)
God promises that if we seek Him with our whole hearts we will find Him. While it's easier to continue to do the same mundane tasks within the four walls of my home, knowing that God meets me there, how much more beautiful than to meet Him in the wide open space of the outdoors, where I am free to run, free to discover and seek out the beauty that is all around me.
To find that pop of color among the weeds in my yard, reminding me of new birth.
To find the caterpillar, reminding me that there is a greater purpose for my life.
To find the laughter of a child, reminding me to not take life so seriously.
I don't want to spend my days watching the world go by while I try to behold beauty from the other side. My son was such a great example of a seeker of beauty that day. He moved from basketball, to throwing rocks, to playing with sticks all within a span of minutes. The beauty was what he made of it. It was all around him and he went on a treasure hunt until he was satisfied.
My soul longs for God. I desire to see His beauty in the wide, open spaces. Today I will decide to step outside and become a seeker of beauty on the other side of the window. Will you join me?