It's almost too familiar, the Easter story.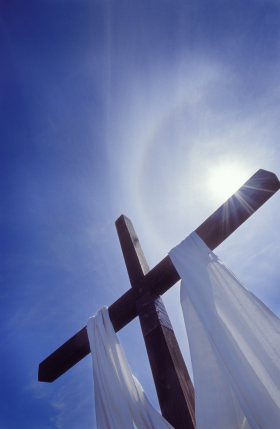 Jesus' arrest, trial, scourging, crucifixion and resurrection. God's remarkable story of redemption settles in our hearts, but we often lose the awe.
A perfect man, the Lord Jesus Christ, was wrongly accused by a group of people who felt threatened by Him. They conspired against Him and had Him beaten and executed.
Most Christians understand the spiritual implications of Jesus' sacrifice, that He
bore the weight of our cross,
took our punishment, and
paid the penalty for our sin.
But we often lose sight of what happened in the physical realm, that the beating Jesus received left Him bloody and unrecognizable. And three days later—THREE DAYS—He rose from the grave and was mistaken for a gardener (John 20:15).
No bruises, scabs or swelling. Jesus was completely HEALED.
Prayers for healing fill my journal. I had foot surgery in January and returned for a post-op visit a week after my procedure to have the dressing changed. I caught my breath when I saw the puffy, scabby mess. Three months later, the scabs have healed but my foot is still swollen and bruised. My surgeon told me to expect the healing process to take another three months.
This Easter, my achy foot points me to the Savior and to the power of the Holy Spirit.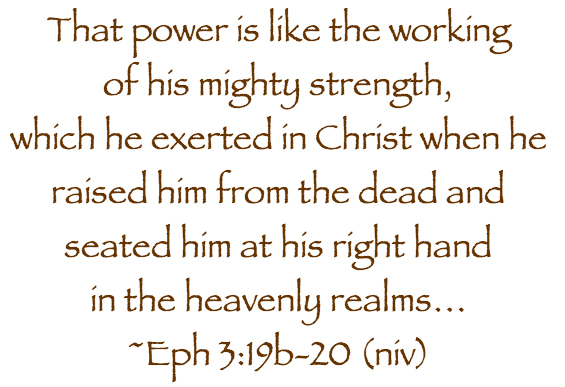 Paul prayed that the believers in Ephesus, and believers everywhere, would understand the power residing in us through the Holy Spirit. But do we?
Do we believe God can breathe new life back into our circumstances and resurrect the dead things in our lives?
A dead marriage or relationship.
A dead reputation.
A dead dream.
Maybe you don't struggle with something that's dead, but something very much alive that threatens to overwhelm you.
An addiction.
An eating disorder.
An insecurity.
As we celebrate the resurrection, remember the power of Easter lives within each of us who trust Jesus as Lord! Whatever is broken or dead in your life, will you sacrifice it to the Resurrected One and trust Him to breathe new life into it?
Image courtesy iStockPhoto.com