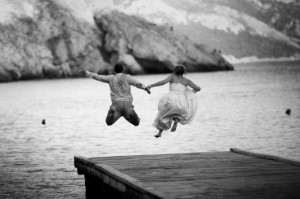 My husband and I have been trying to start being active again. When we started dating we were both avid gym goers, then life got in the way (as a lot of you can probably relate). We wanted to start hanging out more together but with work and home responsibilities… that became a bit difficult. So what did we decide to cut out in order to spend more time together? The gym. Although we wouldn't change our dating history for anything, we are having some trouble getting back in the work out routine again.
So we are taking it slow. We have been going on walks mostly every night of the week together. What I am finding out about these walks is that they are not only good for our health but they are also good for keeping our connection alive and staying 'in tune' to each other during the week days.
Most of what we label our 'good walk-in-talks' are when God is the center of them. Specifically a couple weeks back, we talked about some serious topics like my career goals, church activities, when we want to have kids etc. My career path is a topic that is on my mind a lot. When I talk to my husband about it my thoughts and emotions always seem to resolve for the time being. When we were talking that night a couple weeks ago, I really felt the Lord revealing himself to us about this very topic.
My concerns with my career and where God wants me in life always stem from other people it seems. For example when friends, family, or even the cashier at the grocery store ask me what I do, what I want to do or when I am getting a job I start thinking to myself "Man, maybe I should get a job right now, because that's what anyone would and should be doing."
I stopped myself while I was brain dumping my daily troubles on my husband and said to him, "No, I am content waiting on God." I left the job that I thought I loved, thought I was made to do, worked so hard to get – so I could do what I feel God has called me to do.
I am actively searching where God wants me and what he wants me to do as I read his word daily and try to serve him with all I have. And right now, or heck, I could and will just serve God forever and I know I will be fulfilled. I am happier that I can spend time with God, my husband, my family and friends. I am not a slave to the money or the so called 'dream' I had anymore. God cured that for me and is continually revealing to me who I am through his Word and his Son.
But let me tell you, it wasn't easy taking this leap of faith. But trusting in God day by day is a beautiful thing that I wouldn't give up doing for anything. Here's something that blew my mind that night after we got home from our walk.
My husband and I decided to read Philippians and this is what we heard, "Have this mind among yourselves, which is yours in Christ Jesus, who, though he was in the form of God, did not count equality with God a thing to be grasped, but emptied himself, by taking the form of a servant, being born in the likeness of men. And being found in human form, he humbled himself by becoming obedient to the point of death, even death on a cross." Philippians 2:5-8
The entire book of Philippians is amazing, but in this passage God spoke to me so loud and clear! God saying his precious, one and only son, the Savior of the world came down to earth and became NOTHING – yet he was and IS everything. This is amazing encouragement from the Lord our God. I have to stop and give him complete praise right this second, for that is what he deserves every second of our days.
Here I was thinking that I am nothing because I quit a job that I thought defined my existence. But God is telling me and he is telling every single person who believes in him that they are EVERYTHING in his Son, Christ our Lord.
My prayer for each and every person is to lean and look towards God when you feel the pressures of the World on your shoulders. Ask God to reveal himself to you through his word. You are worth it to God, he proved it through sending his one and only son to die for YOU!
For more encouragement please check out my blog by clicking on the following link! Countonlaura.blogspot.com. Praying for you all Xo – Laura