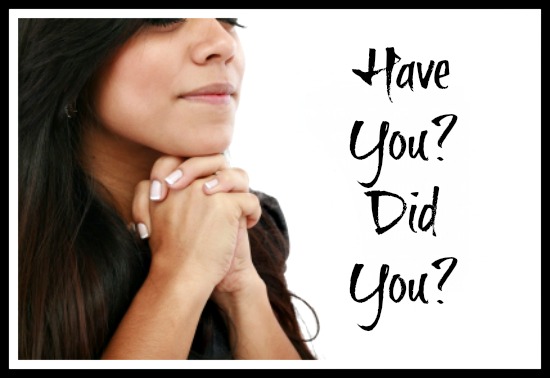 Oh Mama, you know you've asked a hundred times. And then hundred more. Did you brush your teeth, make your bed, feed the dog, put on socks, eat breakfast. The list of things we are afraid they will forget to do without prompting can seem endless. And it is. 
Are we asking them if they prayed? If they did their devotionals?
This morning I wondered if God feels the same way when He is trying reach through the noise to my heart.
My child, did you pray first? Did you remember Ruth, or Abigail, or Tabitha? My child , did you slow down enough to see Me in your own child?
Ouch. 
What would happen if we put our Mom hats aside for a few days, told them we trust they are old enough to get dressed, eat and get ready for the bus. What would happen if we took those moments spent in reminding them of what they already know and taught them about things they don't?
Things like when it feels like God isn't answering your prayers, or when you don't know what to pray for. Or when you can't find the sunshine through your tears because of the bully behaving people, the dirty floor, the laundry that NEVER ends.
Letting our children, and our loved ones of all ages, see our faith in action is so important. Seeing us rest in Jesus. Seeing us struggle with the human things. Seeing us lose our temper, and ask forgiveness. See us reach out in grace to someone who is hard to like, let alone love. Seeing us pray, right there in traffic, for the homeless person or hitchhiker. Seeing us, right there at the drive-thru, buy a coffee for someone shivering at a bus stop on a stormy day.
Writing a letter to someone who never writes back, because they love to get mail, and being okay with God moving in their lives without us.
When they are getting ready for school are we talking faith in action, praying for school mates and teachers? For the bus driver? Are we teaching them to be faith in action without saying a word about their faith?
Living the fruits of the spirit seems so simple. Child-like even. And yet each one of them takes enormous faith to live. Not just do, with a hard heart. Not just say, with a nasty tone. To live. 
That list is pasted up, taped up and thumb tacked all over our house. Did you rest in faith? Did you answer in gentleness? Are you being longsuffering? Are you showing temperance? Where is your peace?
School, and life, is full of rules. Do this. Don't do that. Don't be like this. Do be like that.
God promised that, "…against such there is no law…" Galatians 5:22-23
If our actions, and our answers, came from the fruit of the spirit how different would our busy days be? How different would our responses and questions be? Would their faith be stronger from it? Ours would be.
We fail. We fall. We have to keep trying. Get up again Mama. Try again. They are watching for us to fail, and try again. How we show grace in failure is as important as grace in success, maybe more so.
Share your stories in the comments, and pray for one another. They are our most important job, let us hold up one another and encourage one another.