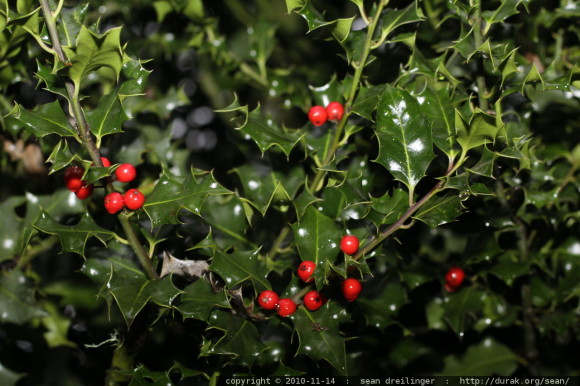 "What I do you cannot do; but what you do, I cannot do. The needs are great, and none of us, including me, ever do great things. But we can all do small things, with great love, and together we can do something wonderful." ~Mother Theresa 
There is a Holly bush in our backyard. It, along with its mate, holds a prime spot on our lawn. Both have been here longer than I. The male overlooks the female, in a protective posture in close proximity, a bit taller in stature while she, hovers low and wide to the ground, as if to bow  hospitably to welcome the little creatures who linger here.
I spend time observing all that comes and goes within their busy branches. Wisdom is present among the shiny, pointed leaves and seasonal berries.
Daily I wash the dishes looking out at that lush Holly bush. It has grown into quite a bird condominium. There I see birds, of every kind seek shelter, nourishment, shade and rest. It's  male counterpart abides just left of my window view. They partner in mutual  service together in our back yard, and I witness a glorious truth right there through my window. An evidence of His glory, in the trees.
Both have weathered many storms, yet they remain, rooted, firm, strengthened evermore with each passing storm. Each year, I see more fruit, stronger branches, vibrant color. Living close to the coast, we've seen multiple hurricanes, and also at least one blizzard, while residing in this current home. Winds have ravaged, sleet has pummeled, and our back yard has been flooded. Yet, nothing has usurped this couple. They remain a sure and steady presence, available to our winged and critter neighbors at all times.
May our Lord Jesus Christ himself and God our Father, who loved us and by his grace gave us eternal encouragement and good hope,  encourage your hearts and strengthen you in every good deed and word. 2 Thessalonians 2:16-17
You see, I long to be as that Holly Bush, a shelter to those God draws into my presence. I want to offer hope and encouragement in my words and actions. I long to be resilient in the face of each storm that blows through my life. I desire to stretch forth my limbs to touch the tender beauty that flutters by, presently, not missing the urgency of a moment. I long to bring the same refreshment to others the Holly tree brings to the birds… and me.
I think it is possible. So, as I wash the dishes I consider the example and beauty of the faithful Holly. I see the faithfulness of my Savior and a living reminder daily to be like Him.
 Never be lacking in zeal, but keep your spiritual fervor, serving the Lord. Romans 12:11
photo credit: sean dreilinger via photopin cc