Everyone has secrets. Even secrets from spouses. As much as I share with my husband – and it's a lot – he still doesn't know every thought, idea, wish and dream that swims around in my head. Even teenage "besties" (oh how I wish only teenagers used that term) don't disclose 100%. Just not possible.
No one really reads mind, thank goodness and knows all of another's thoughts, feelings, hopes & dreams. Can we can even go so far as to say no one knows every aspect of themselves either? That we don't even really completely know ourselves?
Ever have someone tell you something they've observed in you that surprised you? We have to admit that others often see aspects of us that we simply don't see and that even seems completely foreign to us when we hear it.
In psychology, these ideas are illustrated through the Johari Window.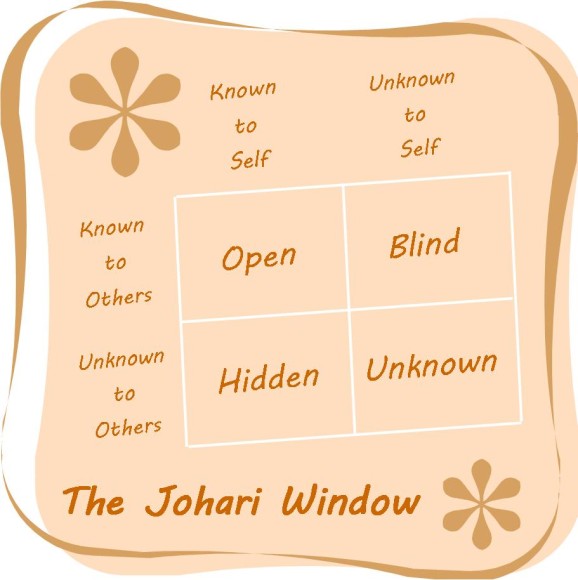 The purpose of the Johari Window involves categorizing conscious and subconscious areas of our lives with the idea of self discovery and finding out what we don't yet know about ourselves. While considering the Johari Window and its purpose, also consider the truth of Psalm 44:21.
"God knows the secrets of every heart."
Because of this verse, I would draw a "God circle" around the Johari Window to encompass what He knows about each one of us… everything.
What assurances can we gain from this? He knows our fears, weaknesses, strengths, dreams & aspirations. He knows the long-forgotten events – big & small – that shaped our lives. He knows what others think & feel about us, and He even knows what we don't even realize there is to know about ourselves.
Whatever has happened, is happening or will happen, He knows & loves us. Some of these things will bless Him, others not. Yes, He knows the depths of our hearts (Psalm 44:20-21), the secrets deep within that even we do not know.
So, venture on to self-discovery if you'd like, but can I suggest another avenue? Get closer to Jesus. Get closer to the One who knows the secrets of your heart even better than you do. Get to know Him better than you know yourself because He will always know you better than You know yourself.
Somehow I feel more peace when I focus on God-awareness over self-awareness because I know He will perfectly shape my awareness if I let Him. He'll take me from a focus on self to a focus on Him.
Romans 12:3 says to avoid thinking too much of ourselves but to instead let the measure of faith we're given guide our thinking. We know faith comes by hearing the Word of God (Romans 10:17), so let the truth of His Word give you faith to guide your thoughts and transform your awareness of Him. And in that awareness, you'll soon discover that you can know yourself far better through Him than through any efforts of self-discovery.