The Ministry of Invitation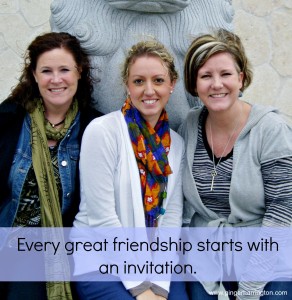 It feels good to be invited to something, doesn't it? Invitations speak of a level of inclusion and acceptance that warms our heart. Remember how important invitations were when you were growing up? Life's greatest joys and trials often revolved around being included and invited.
Remember?
Don't wait to be invited.
Invitations can be easy to overlook in the midst of our over-croweded schedules. We forget how powerful an invitation can be to encourage, include, initiate, develop and deepen relationships.
How many of us hope for others to invite us, yet we neglect to invite as well? Have you noticed that when everyone is waiting for someone else to do the inviting that there is not much going on?
What keeps us from inviting others?
In this season of my life, I find myself forgetting to invite others because of the busyness of my schedule with three older children. I also find myself limited because of time and energy. Some days I just run out of steam. My biggest challenge is simply remembering to plan ahead and issue the invitation.
It can be a sacrifice to plan and protect the time to prepare a meal for a guest, to have my home in reasonable order. Sometimes I just get into a rut and find myself running the same bases over and over, forgetting to look up and remember how fun it is to invite someone new into relationship, to initiate what can become a new friendship.
I forget how fulfilling it is to invite a friend into a deeper relationship—and yet I long for those deeper relationships.
Don't we all?
You don't have to be Martha Stewart to show hospitality to others.
The house doesn't have to be spotless and the meal doesn't have to be five courses on your best china. Keeping things simple provides an easy time to get folks together. Meet at a restaurant, initiate game night rather than a meal, or host a potluck–all simple ways to invite others and show hospitality. If you have a fire pit, fall is a great time to gather friends and neighbors.
When we think of  invitation as a ministry, we can relax our self-expectations and put the importance on spending time with people. In reality, it is great to invite people over, but the power for relationship accelerates when we learn to invite others in.
Most often we think about invitations in terms of doing something or joining something. However, the most important invitations are the ones in which we invite someone into a deeper connection or relationship.
 These are the invitations that open hearts and cement friendships.
These are the invitations that can change lives.
Every great friendship  starts with an invitation.
Enjoy the ministry of invitation. Who can you invite today?