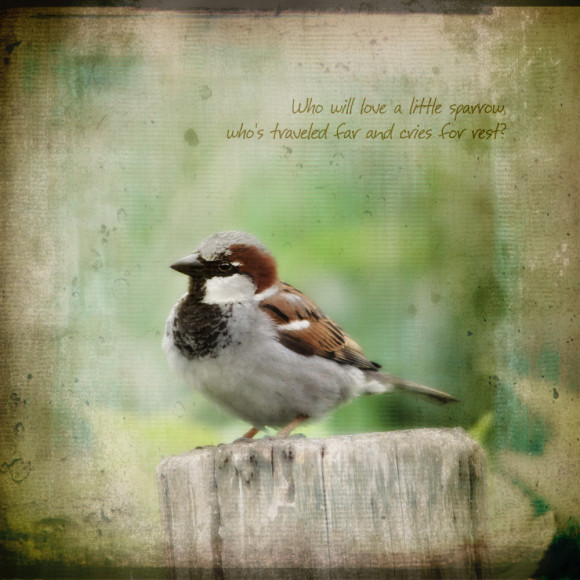 Resist him, firm in your faith, knowing that the same kinds of suffering are being experienced by your brotherhood throughout the world. 1 Peter 5:9
It was an early August morning when I approached the bird feeder. Quiet still hung heavy over our little backyard, like dawn's own quilt. I padded across the yard. Dew kissed grass, sun breaking beyond the trees, almost, but with pause, as if waiting for the precise moment to burst forth from hiding. I glance about as I carry the pitcher of seeds. I'm always looking for the eyes that watch me, as they await their breakfast. I approach the Holly Tree near what has become our "creature of all kinds" sanctuary, and fill the bird feeder before noticing a wee bit of fluff and two small eyes observing me from atop the Bird Pole. Curiously still, but seemingly staring. I wonder if the fluff is alive as I, in my sweetest Snow White voice, ask the little bird, as not to startle him, "Are you trapped?" In retrospect the fact that I am close enough that he is not startled already has not hit me yet, and I drag a lawn chair over to climb high enough to take a look. As I got up close and looked at my feathered friend, I saw that he was indeed trapped. This little bird looked nervously about as I gently moved the object, that he was unable to move himself, and freed him. At once he was able to fly off.
There I stood on the lawn chair staring at the sky…I prayed, "Lord, show me what you want to teach me through this little trapped bird and experience this morning."
Later, as I sat down with my journal, it came to me. God gave me a beautiful picture in His classroom that day. He showed me the importance of Intercessory Prayer.
The trapped bird represented me!
I had been going through a very difficult spiritual battle involving a loved one and no matter how I prayed, nothing changed. I was getting discouraged. Yet in the battle, each time, I would reach out and ask for prayer in desperation from a few faithful, trustworthy praying sisters. I felt helpless and overwhelmed, yet when I got to that place, it seemed God was leading me to seek others to intercede, in the moment when it got most intense.
I,  in lifting the burden off the trapped bird, represented those who interceded.
My praying friends freed this little bird from being "trapped". Because of their quick intercessions, I have been able to see His hand move, in the nick of time. It was in the lifting of my burden through the intercession of others that God set me free from that which hindered my own prayers.
Are you feeling trapped or discouraged in your prayer life? I encourage you to seek one (or two) faithful friends and make a pact to pray for one another. Especially when you feel most like not praying or reaching out. Even a quick text asking for prayer in the moment. I have been carried through the most difficult seasons through the prayers of a few faithful friends.
And after you have suffered a little while, the God of all grace, who has called you to his eternal glory in Christ, will himself restore, confirm, strengthen, and establish you. To him be the dominion forever and ever. Amen. 

1 Peter 5:10-11