We live in interesting and sometimes scary times. With so many confusing world events, particularly in the Middle East, I can't help but think about some of the prophecy in Revelation. I try not to think too much about it since it's so hard for to understand, but there are a handful of things in that magnificent book that I can grasp.
I love what John recorded about the beings in the throne room of God. Day and night they never stop saying: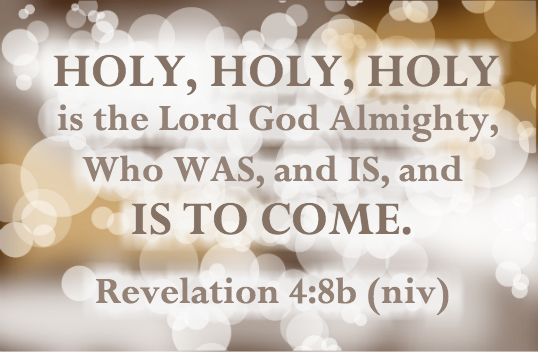 Think about that for a minute. They NEVER STOP. Praise rings in the heavenlies day and night, 24/7.
I'm not exactly sure how that works in eternity. Since day and night denotes time and eternity is… well, TIMELESS. See what I mean about being confusing?
What isn't confusing is the unending worship that goes on in His presence. That our Jehovah God is always being adored.
I'm convicted because there are times, and I confess far too many of them, that God doesn't even cross my mind. God's Holy Spirit keeps me constantly connected to Him, but I mourn the times I don't think about Him because I'm distracted by so many other things in life.
No matter how important they might be, I don't want to move along through my day completely oblivious to the One Who knows me best and loves me most.
I've asked Him to interrupt my day so I can join in the praise of the throne room, even for just a minute. The world might see those little "praise breaks" as a waste of time, but I can't think of anything more worthwhile.
Care to join in?
"Holy, holy, holy,
is the Lord God Almighty,
Who was and is and is to come!"
Do you have a favorite "praise break" verse or song?