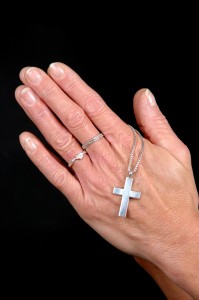 If you look closely at my hands you'll see scratches, puppy nips, a few age spots, and some small scars. That's what you'll see. What you won't see are the ones from lies, accusations, betrayal, and rejection. Those are the scars I usually keep hidden.
Why?
Because scar exposure is risky. Revealing our worst scars gives people the opportunity to judge whether or not we deserve them.
I often wonder why we're so quick to judge one another. Why we feel the need to ask:
if a person with lung cancer was a smoker.
if the accident victim was texting.
if the jilted spouse was cold and unloving.
Job's friends were certain he "deserved" what happened to him.
Listen! God is doubtless punishing you far less than you deserve! Job 11:6
We want people to deserve the bad things that happen to them, because if they deserve them . . . then they can't happen to us.
The truth is bad things happen. Some as a consequence of our bad decisions, others because of bad choices someone else made, and others because we live in a fallen world where bad things happen.
Analyzing My Scars
I've spent hours analyzing my scars . . . what should I have said or done differently. Should I have trusted less? Should I have set more boundaries? Less boundaries? Should I have defended myself more loudly? Should I have fought harder?
All of the "should I" questions haven't changed a thing. My scars are still there, raised and sometimes a little irritated, but no longer raw wounds. By God's grace and the power of forgiveness they are healed. They are the past and this is my present.
And in my present….
God is my Strength and my Portion forever.
Several years ago, I chose Psalm 73:26 as my life verse:
My heart and my flesh may fail, but God is the strength of my heart and my portion forever. 
I still have moments when I look around and realize my life isn't what I dreamed or imagined. Some people missing. Some words left hanging. Some memories hard.
But today is still good. Today by God's grace can be blissful.
Did you know that a synonym of bliss is blessed? By God's grace today I will count my blessings. I will trust His mercy. I will rejoice in His love.
As a side-note:
I am thrilled to be taking over as the Managing Editor for 5 Minutes for Faith. I looking forward to making this a community where we can safely share our scars, and where we can encourage each other while open wounds heal.
I'm praying that you will leave a comment occasionally, join our Facebook community, follow us on Twitter, and share us with your friends. I'm praying that friendships will grow along with faith.