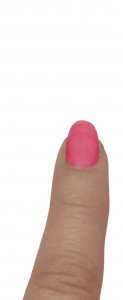 I'm a girly girl.
I don't leave home without lipstick or gloss. Accessories are a not an option, they are a necessity. I like pink, and if it sparkles I love it.
So you might find it strange I hate long nails. Perhaps it's the way they click on my keyboard when I type that sends me over the edge. Nevertheless, I try to keep them cut short.
Today as I was responding to some emails, I noticed the clickity clack of my nails on the keyboard. I stopped to inspect. Shocked at the long length, I hopped up and ran to the bathroom to retrieve my clippers.