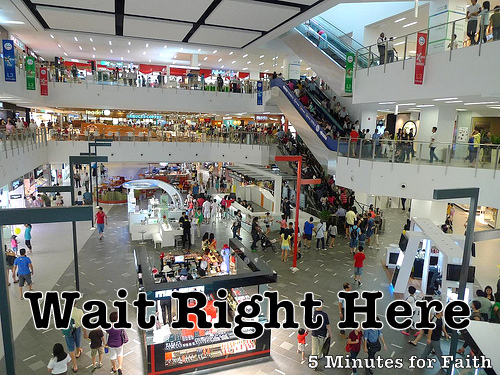 Mom moments are full of teaching experiences and some of them even benefit our children.
One of my mom moment memories happened when our son was about 3 years old. I had taken him to the mall to burn off a little energy. We were having fun just walking around and looking at store windows when….
All of a sudden he looked up at me and said, "You wait here Mommy, I'll be right back."
He started to run off and for just a moment I was speechless. Thankfully, I regained my senses and yelled,  "I don't think so! Come back here right now!"
Thankfully He turned on his heels and returned.
I then squatted down and asked, "Where do you want to go? Why don't we go together."
I don't remember what he wanted or where he was going. I just remember thinking how silly it was that my three year old thought he could manage that big strange place all by himself.
Each time I remember that moment, I think of the many times I've shown the same childish foolishness to my heavenly Father. Here I am in this big strange place away from my heavenly home. It holds unseen dangers and places where I can get lost, yet I will look up at Him and say, "You wait right here, I'll be right back."
As I leave church on Sunday.
As I go on vacation or join friends for the evening.
As I head to work and drive in rush-hour traffic . . . Anytime, I decide I am going to do things my way; I am really saying, "Wait right here, I'll be right back."
My prayer is that I will always hear the Father calling me back to Himself, and that I will thank Him for always asking, "Where do you want to go, and may we go together?"
"My wayward children," says the Lord, "come back to me, and I will heal your wayward hearts." Jeremiah 3:22

Don't be afraid, for I am with you. Don't be discouraged, for I am your God. I will strengthen you and help you. I will hold you up with my victorious right hand. Isaiah 41:10
Photo Credit