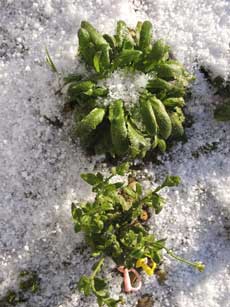 I have hinted at in my past writings that the winter always tends to be a difficult time for me. It reminds me of things I would like to forget, but every year those same old bluish memories wash over me once again.
The other day, in a bout of unseasonably warm weather and a strange urge for me to get outdoors, I decided to go rake out the plant beds around my house. These beds, in my "not so master gardener" mind, are beautiful and luscious in the spring and summer. They make me so happy when I walk around the edge of my house and see the butterflies dancing all around.
As I was raking out the leaves of my winter garden, I saw a glimpse of some green towards the bottom on some of my plants. We have had freezing weather several times in the last couple of months and I realized that growth is actually happening and the perennials could be profiting from the insulating effects of the frost.
Not that you wanted a plant lesson, but I was intrigued enough by this growth that I saw, that I did a little Wikipedia study on a process called vernalization. "Vernalization (from Latin: vernus, of the spring) is the acquisition of a plant's ability to flower or germinate in the spring by exposure to the prolonged cold of winter." This plant will actually not flower unless it goes through a period of cold.
Hmmmm . . . do you see where I am going with this? I know it often feels like the repeated verse throughout The Lion, the Witch and the Wardrobe, "Always winter, but never Christmas," but truly, without winter, we just may not flower like we are supposed to when it comes time. There are "valleys/winters" and there are "mountains/summers" in life, but I sincerely believe the "valleys/winters" make us who we are. The winters are harsh, but the summer is a whirl of colors and life. Without the winter, we would not appreciate the warmth of the summer.
Awhile back, I was reading in Deuteronomy where God was moving the Israelites from Mount Horeb (Sinai) to the Promised Land. They were pretty content to stay on Mount Horeb and the Lord had to intervene. He said to Moses and his crew in Deuteronomy 1:6,
"You have stayed long enough at this mountain."
That phrase struck me. How many times has God said, "Sorry, Desiree' you cannot stay here, you must move on." Sometimes it is to a harder place and sometimes it is to an easier place. Sometimes that place feels like deep, dark blue canvas of winter and sometimes it feels like the sandy beaches of the summer. Either way, we need both. When we decide to stay on the mountain or in the valley . . . neither is the final destination for us as Christians.
The Lord says, you are not at the Promised Land yet, you must keep moving. There is another season and another place I have for you.
Where are you? Do you feel the draft of the winter door being left open or are you experiencing a heat wave of love and excitement? Either way, we will experience both as we are trying to make it to the Promised Land. The final destination is the garden of beauty, and it is always the perfect temperature.