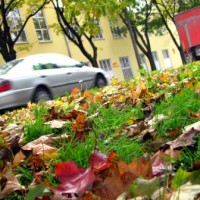 This past Sunday while I sat in church there were many great challenges and ideas thrown out that day. My hand was furiously writing as I tried to keep up with all the notes that I wanted to put down on paper as the pastor was preaching. Notes were lining the edges of bulletin and I loved it. In the midst of these great insights and ideas there were three little words that pierced right to my heart.
Reclaim your commute.
It sounds simple enough, but what does that really look like?
If you are like me, you like to multi-task and the commute is the perfect time to get phone calls made or even just chill out to some great music. However, what if we did take these three words to heart? What if we took the time that we are in the car every day and gave it over to growing in our relationship with Christ?
"Be still and know that I am God." Psalm 46:10
Here's what it could look like if we put down the cell phones and turned off the mindless noise.
We could:
–          Listen to audio books by Christian authors, Pastors, speakers that challenge us or inspire us,
–          Listen to sermons or podcasts from Pastors from all over the world,
–          Record our own podcast full of prayers, Scripture or promises from God and listen to it,
–          Pray without ceasing for our marriages, kids, extended family, friends and those God brings to our hearts,
–          Memorize Scripture
Can you even imagine what the benefits of this would be?
Think about it…you would grow closer to God, you would probably have a better start to your day, and your prayer life would grow exponentially. If I had to guess, I would even say that your whole outlook on the ups and downs of life would dramatically change as well, not because things aren't as bad as they were before but quite simply because your faith in Him would overshadow the other stuff.
Some of you might be saying, "Well, I've got my kids in the car with me all the time how am I supposed to do that?" and that is a great question. What if you reclaimed your commute with them too?
There are so many fantastic resources for mommies to have in the car for the kids, try some things like these:
–          Veggie Tales,
–          Adventures in Odyssey,
–          Kids Praise & Worship CD's (you'll be surprised at how awesome some of these are),
–          Record your own CD of you reading from the Bible and play it in the car for the kids (they will love to hear mommy's voice on the radio),
–          Talk to your Kids Ministry Director/Pastor at your church, they will have some great ideas too.
Three simple words…Reclaim Your Commute…what would our lives look like if we all did this?
Father God, we want to be women who are passionately pursuing You. Father, help us as we start this New Year to reclaim our commute for You and You alone. We want to be women of the Word, full of Your truth and wisdom. Guide us as we embark on this fantastic journey. Lead us Lord, here we are…in Jesus name, Amen.
Now it's your turn…
Are you going to join me as we Reclaim our Commute?
What does that look like for you?
What are some ideas that you use to Reclaim Your Commute?
PS – The sermon I was talking about was this one, Disciplining Your Mind, check it out…yes, I am biased because it was my husband preaching, but I really think you'll enjoy it too!