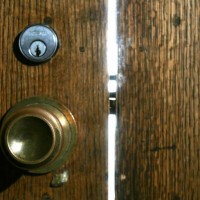 I have been walking through an intense season of trust over the last year. My husband was laid off from a very well-paying construction job last June. It threw our already troubled finances into a tail spin. On top of all of that, we were in the process of losing our home. We tried for a year in every way imaginable to work with our mortgage company so that we could keep our home. In the end, we had no other choice but to short sale in order to avoid foreclosure. As we sat last week and signed the papers, I did not really feel anything except numbness. I am still working on allowing God to let me "feel" certain emotions, but that is for another post.
Despite all of these seemingly bad circumstances surrounding my family, I have learned to lean on the Lord more heavily in this season, leaving ALL of my cares in His very capable hands. He has proven time and time again that He IS faithful. His love for me does not change. He promised to never leave me nor forsake me. And He has held true to that promise. Just this week, my family was accepted as the new tenants of a very wonderful home. It is far above all that we could ever hope or imagine. I am overwhelmed at God's goodness towards me at times. Last night I simply burst out in joyous laughter as I reflected on His great love and provision for my family.
I fully believe that when God closes one door, He always opens another. It does not always come simultaneously with the closed door, but it always comes. Sometimes we can get impatient. We tend to cross our arms, stomp our feet, even whine a little bit. We feel wronged, rejected, unloved and hurt. We sit outside the closed door, banging our head against it, pounding our closed fist on it, as if we think we have the strength to pry it open. But if we will take a moment to ask God to give us eyes to see beyond the closed door, He will show us a glimpse of His plan for our future and we will continue to walk in peace. I have faced a few closed doors over the last year. I could literally hear them slam shut. And although I did not understand, I cried out to God, and believed for other doors to open. I chose to trust God, knowing that He knew the best way for my family.
"For my thoughts are not your thoughts, neither are your ways my ways," declares the LORD. (Isaiah 55:8-NIV)
Are you standing outside a closed door in your life? If so, take a moment to pray and ask the Lord to give you the ability to look beyond the closed door, into the future that He has for you, one filled with hope, fulfilled dreams and prosperity. He will not fail you.
For I know the plans I have for you," says the Lord. "They are plans for good and not for disaster, to give you a future and a hope. (Jeremiah 29:11)