"Salt is good, but if it loses its saltiness, how can it be made salty again? Luke 14:34
Most health conscious adults today acknowledge that excessive salt in the diet is not optimal for good health. As a matter of fact too much salt in the diet increases health related risks and in the extreme can be associated with life threatening conditions. Some health conditions require minimal salt intake with the aim of a "salt-free" diet.
How completely contrary to the Christian's call to be Salty. As far as your spiritual life goes, you can consider saltiness to be an excellent measure of your effectiveness in the Kingdom. Jesus wants us to be salty, not salt-free followers.
 Our aim is to be salty, not  snarky, sassy or even super… 
Let your conversation be always full of grace, seasoned with salt, so that you may know how to answer everyone. Colossians 4:6
Jesus used the word salty with good reason. Salt has a specific impact on what it comes in contact with. It influences and preserves the food it seasons. It draws out impurities from within and enhances the flavor of a variety of foods. To be a salt-free Christian would be the worst possible state. It would mean that the grace and peace of our Lord has become flavorless to us. That the Cross be deemed meaningless, that we have no influence for the cause of the Savior at all, in our word, deed, thought life.
We are to be grace based, Holy Spirit filled, followers of Jesus. 
How can you know your Salt Status? First of all Jesus has to be your focus. As He is, not as who you think he is or should be. Jesus did not mince words. He made specific, uncompromising claims. You need to know His word and claims to be salty. Period. Christians who lose their saltiness usually have compromised or denied Christ's own claims about himself and His mission. "I am the way and the truth and the life. No one comes to the Father except through me.  If you really know me, you will know my Father as well. From now on, you do know him and have seen him." John 14:6-7
Jesus also empowers believers to fulfill their calling, by doing as He did- NOT as the world does. Being salty requires one to choose serving others over self often, leaving behind the "looking out for number one" mentality. Your kingdom come. Your will be done, On earth as it is in heaven. Matthew 6:10
As Salty Christians we glorify God by exalting the name of Jesus, striving for peace, unity and common ground while standing firmly for truth in a world ruled by deception and darkness. 
Finally, brothers and sisters, rejoice! Strive for full restoration, encourage one another, be of one mind, live in peace. And the God of love and peace will be with you.1 Corinthians 13:11
Let's stay salty ourselves and shake, shake, shake our grace and truth wherever we are. Pass the salt, please!
I like to use the hashtag #onwardchristiansoldier for my Social Media saltiness. I would love to have you join me!
Now it's time for Faith 'N Friends Blog Hope
Top Posts from Week #8
The Joyful Reward of Obscurity
@ Embracing His Will
When You Can't See What Change Will Look Like
@  Life Notes
Time's Flying
@ Let Heart's Bloom
Thanks so much to everyone who shared a link!
Welcome to the Faith 'N Friends Blog Hop #9
We're so glad you're here!
This is a place to share faith, make friends, and have fun.
If you've never done a blog hop before they are super easy.
Scroll to the bottom of the list and click the Add your link button.
Add the Faith 'N Friends button to your post or sidebar.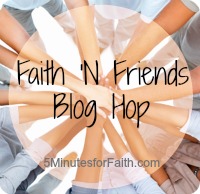 [inlinkz_linkup id=508008 mode=1]