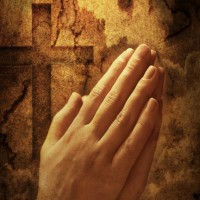 Always be joyful. Never stop praying. Be thankful in all circumstances, for this is God's will for you who belong to Christ Jesus. 1 Thessalonians 5:16-18
How do you feel when you read those verses? I usually feel a little guilty. It's hard to be joyful and thankful in the midst of worry and anxiety. Unless you are living alone in a cave, there are usually plenty of things to be worried and anxious about.
Maybe that it why right between joy and thanksgiving, the Lord reminds us to never stop praying!
I moderate the prayer requests for Prayer Ministries Int. Recently I received the following prayer request (the name is changed for privacy):
Please pray for my friend Cathy. She is 45 years old and is very ill with breast cancer. She does not believe in Jesus. We have been praying for her and one of our friends is going to travel to visit with Cathy and her husband. Would you also pray for her as she shares the love of Jesus with them? Thank you.
My husband and I prayed and I sent the prayer need out to one of our prayer teams. This past week I received this email:
The Lord granted success to our lady that went to share Christ with the lady dying of cancer. (Cathy) died Sunday morning, but she and her husband came to the Lord the day before.
What an awesome answer to our prayers! God not only blessed Cathy with faith, but her husband, too.
Do you have something you have been praying about for what seems like "always?" Do you occasionally get discouraged and feel hopeless, or struggle with worry and anxiety? Me too! But the Lord's will for us is that we would never lose hope or allow our circumstances to rob us of our joy.
His will for us is joy, thanksgiving, and prayer. 
He is always our reason for joy! He never stops hearing our prayers! We can be thankful in all circumstances because for those who belong to Christ Jesus there is always hope.