Children are a gift from the Lord;
they are a reward from Him.
Psalms 127:3 (NLT)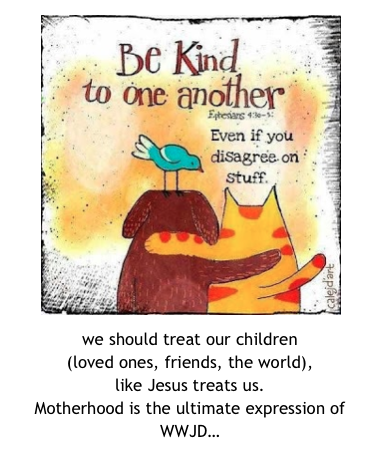 My Bestie, whom I refer to as "my Gayle" (because every one of us harbors a secret Oprah fantasy, right?), and I were talking about the frustrations of motherhood one morning. It's something we talk about most mornings, in one fashion or another. It is a popular theme among my friends. We are high achievers. We like to do things well. We have (or had) spectacular mothers, and struggle with doing and being to our own children what they are to us; despite our world being vastly different than theirs…but we try.
Once upon a time, my Gayle found herself at the mercy and subject to the whims of an extremely busy three year-old boy, my godson, blissfully unaware at the time that he should have been resting to recover from a childhood illness. What do three-year-olds know from bed rest? What do three-year-olds know from be still?? When I suggested (in my infinite wisdom as a mother who hasn't gone near a toddler with serious intent in more than 10 years now) that she try convincing him that the bed was an island and sharks were in the water as a method of staying put, he promptly jumped OUT of the bed to look for the sharks. That (among other reasons) is why I'm not the mother of toddlers anymore. I am clearly out of my league. Been there, done that, bought the t-shirt, and no, thank you, I won't be coming back.
We agreed after venting our frustrations that motherhood is a threshing floor. You can become consumed or even defeated by it, or like iron sharpening iron, you become something new. I'm voting for new, even if I don't know what that new looks like. I trust The One who granted me the gift of motherhood, so I'm saying I'm all in.
What I said at the time to my Gayle, and what I said later to my BFF (yes, I am blessed to have one of each), is that we should treat our children (our loved ones, our friends, the world), like Jesus treats us. Motherhood is the ultimate expression of WWJD…
In my corporate life, I appreciated that motherhood made me a better professional. I did not often discuss it in the office, but things I learned during the toddler years rendered me more patient, more creative, less volatile. As the parent of teens including one who will shortly be leaving the nest for college, I actively seek Grace as a means to parent well…and I still refer to the toddler year lessons, but don't tell the teens, please…
Jesus never yells. Jesus never responds to tantrums with nastiness, never employs sarcasm, Jesus never wants to crack us in the head when we're awful, petulant, or just plain wrong (at least that's not what I know of God…). Grace-full motherhood is the ultimate expression of WWJD.
I want to honor the gift He bestowed upon me. I want to embody Grace in a way that my children will learn as a model for their own lives, instead of the typical madness. Motherhood is the ultimate expression of WWJD. I want to be like Jesus…