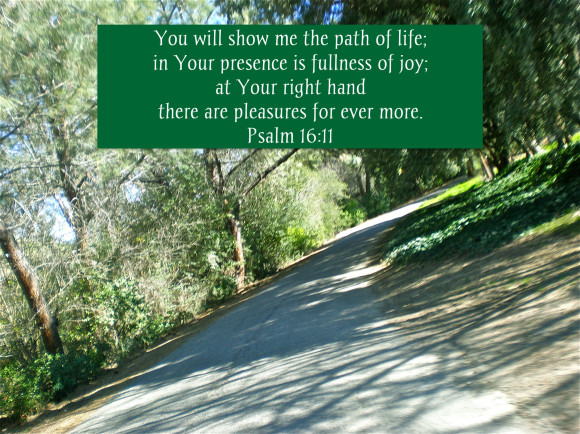 My dad loves hiking and taking extended walks. I have an early childhood memory of taking a long hike with him while our family camped one year. I can hear him singing with us kids as we turned another corner on the winding path.
"What's around the corner?…Just another corner!"
We laughed as we came around each bend and sang the little song again and again. As I think about that scenario now, I wonder if we were actually lost and my Dad was just being very successful at distracting us!
In May of this year, just three short months ago, I had no idea what was around the corner for my family and me. I felt like we had been around every corner possible and all I could see up ahead was a dead-end. Most of my prayers consisted of two words, "Please help!" Finances were horrible and dwindling. Relationships were few and far between. We knew that it was time to move to a new place and start over. But where and how?
I could not see beyond the corner. My eyes were on the pathway and I was weary of the journey. In May, God heard my plea for help and we received a job offer in the same state my son and his wife live. The new employer wanted my husband there in just six weeks! How could we pack up our home of twenty years, sell the house and relocate in such a short time?
Again I cried, "God, please help!" We put the house on the market May 13th and sold it on May 20th. On July 19th we spent our first night in our new home in a new state we'd only visited once for our son's wedding! Today we have lived in this house for one month and I love it more every day that I am here.
What's around the corner? You may be weary of turning corners and finding…just another corner. It gets old. We kept finding only one corner after another for three years! It chips away at your faith and your ability to pray. You may feel like you have hit a dead-end and the idea of hiking around one more corner is simply beyond your strength. I know that place and I will join with you in the simple prayer, "Please help!"
God is around that corner setting up the answer to your prayer. I do not know how many bends in the road are ahead of you, but I know that God sees you and I know that He is not lost. I know that He is urging you onward. The dead-end only exists in your imagination. God is for you. He is cheering you on because He knows what delights are in store for you…just around the corner.