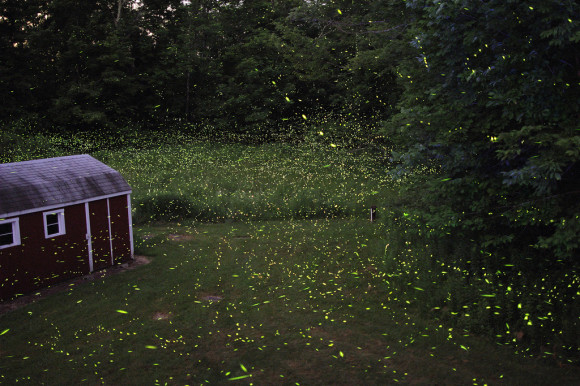 We walked back up from the river in the deepening dusk. As we rounded the bend we saw them—fireflies twinkling among the thistles and Queen-Anne's lace bordering the path.
My daughter froze. "Mom," she said in a reverent whisper, "Are those fireflies? I've never seen them before."
We held out our hands to catch the light and watched the fireflies dance in defiance of the dark.
God has called us to be light. "You are the light of the world. A town built on a hill cannot be hidden. Neither do people light a lamp and put it under a bowl. Instead they put it on its stand, and it gives light to everyone in the house" (Matthew 5:14-15).
We are light, but we live in a dark world. Sometimes I look around this world my children will inherit, and I tremble for them. Kidnapped schoolgirls in Nigeria. A Sudanese woman jailed for her faith. Global warming, trafficked children, and school shootings. The evening news is like a dark sentinel whispering about things we should fear.
The darkness triggers my fight or flight response. Sometimes I want to take my children and hide in the safety of the Christian bubble. I can pretend the darkness isn't there if I don't see it. At other times I want to fight it—push back, win the culture war, and make room for the light by stamping out the dark. But neither response is what God has asked me to do.
Jesus doesn't call us to fight the darkness or flee it. Jesus calls us to shine. We shine because God's love shines through us. We shine because it is what we were created to do. We shine because the only cure for darkness is light.
Jesus doesn't ask us to curse the darkness. He calls us to shine the light.
Love makes light. Like pinpricks of light against the darkness, we shine out in our everyday lives by loving the one God puts in front of us. We sponsor children and welcome the children who make our house a second home. We serve in soup kitchens and gather neighbors around our table. We drive carpools and volunteer in the chemo ward. We deliver casseroles down the street and fly food and medicine around the world. In classrooms, boardrooms, and sanctuaries, we choose to love as we have been loved. We shine, and like the fireflies we dance in defiance of the dark.
Love makes light. Let us shine it brightly.
How has God called you to shine this week?
Image credit from s58y via Flickr