Run to the football game, run to the birthday party.
Run home, do a quick clean up, run to the grocery story, run back to the party.
Run to hobby lobby for that new project, run home for the baby's nap.
Run the dishwasher, the dryer and the vacuum.
The vacuum wakes the baby! Run out for last minute errands…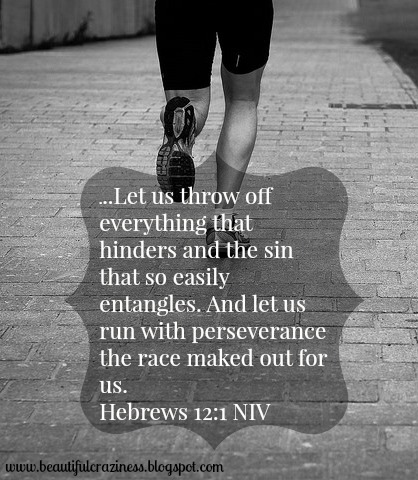 I am not a runner, though there is an element of serenity and determination that appeals to me about running.
But this kind of running described above makes me weary and worn out.
This kind of running is what life and motherhood tends to become.
I never intended my life to be what many times feels like a sprint.
I don't think I signed up for this race and I know I never got the t-shirt for joining up,
but nonetheless I am in this race, and it's hard.
I can't seem to get my rhythm and every once in a while I trip up and fall. Face first.
The bible says in Hebrews 12:1, "…Let us throw off everything that hinders and the sin that so easily entangles us. And let us run with perseverance the race that is marked out before us."
Lack of faith is the sin that "easily entangles us." I trip and fall because many times I am putting my faith in the world around me, instead of the one who has called me to the race and then, my perseverance suffers; I forget to breathe, I trip, I fall, I lose my rhythm.
Why Can't I find my Rhythm in this race called "life"?
1. I am trying to keep up the pace with others around me
Some people are faster, stronger, better trained, better prepared, more patient, more skilled. How can I keep up with all those that surround me? Why does everyone seem to be running faster than me?
If I try to keep up with others I'll lose, because I'll be running their race and not my own.
2. I'm constantly comparing myself to others around me.
They have better shoes, better outfits, and better gadgets. Their kids are smarter, cleaner, better behaved; the husbands don't travel, they work from home, coach little league, work in an office, make more money; their houses are bigger, newer, prettier, better organized…
When you compare yourself and your race, the run gets harder. You lose your focus, start to complain, your body starts to ache and your feet trip up.
3. I'm trying to see the finish line and missing out on the mile markers.
The mile markers are the moments that make this race durable and worth the hard. They are the moments of tenderness, peace, sweet hugs and funny stories.
If you are running and just trying to finish, you'll miss those moments that make the run worth it.
God mapped out your race. He knows the turns and the cuts, the hills and the rocky paths.
He created the race you are running for you alone.
You are the only participant in your race.
You are the winner of your race.
All you have to do is run; slow and steady, eyes on the prize, treasuring every mile marker, forgetting about all those who are in front or behind because they aren't running your race.
God desires for you to run at a steady pace.
He does not desire for you to be out of breath or weary at the end.
He desires for you to find the steady pace He has set for you.
Stop running. Find your rhythm. Win your race.