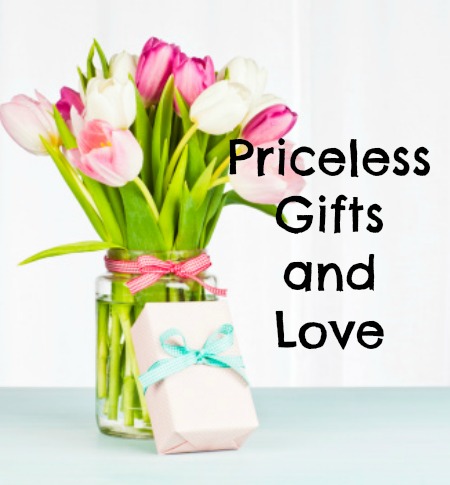 A wise lover values not so much the gift of the lover as the love of the giver. ~ Thomas á Kempis
I have a box full of cards, notes, and hand-made treasures from my children and grandchildren. There is nothing like those early drawings and words made by tiny hands to express their love. They would never sell at an artist boutique or become literary classics, but to me . . . they're priceless.
I'll bet you have similar items. Things precious to you simply because you love for the giver.
When you love the giver the smallest gift becomes a masterpiece.
Do you have gifts you love even though you can't remember who gave them to you? How about the people who gave checked off items on your Wedding Registry? You were blessed with dishes, toasters, and coffeemakers and you still love the gifts, but you can't even remember the giver.
It's easy to be like that with God's gifts . . . love the gift more than the Giver.
O Lord, you are the God who gives breath to all creatures. Numbers 27:16
And we love and worship the creatures.
It is He who blesses you with bountiful harvests and gives you success in all your work. Deuteronomy 16:15
And we love and worship food, wealth, and power.
Paul said it well when he wrote the following to Timothy:
 Teach those who are rich in this world not to be proud and not to trust in their money, which is so unreliable. Their trust should be in God, who richly gives us all we need for our enjoyment. 1 Timothy 6:17
We recently celebrated Easter and God's greatest gift—Jesus.
The gift of forgiveness through His only Son, Jesus . . . His very life, death, and resurrection; to win our soul from sin, death, and the power of the devil.
And next month we'll celebrate Pentecost, the gift of the Holy Spirit.
The gift of the Holy Spirit, who out of love lives in our sin-fiilled temples because He wants to guide and comfort us.
I recently read the following question on a Christian Forum:
Do we worship the gift of salvation more than we worship the Savior?
We could also ask:
Do we worship the blessings of creation and spiritual gifts more than we worship Father and Holy Spirit?
And still God wants to bless our lives with  good for His glory!
His perfect love, His grace, and His mercy for our good and His glory.
I don't have the answer to the above questions. I have to admit I'm guilty and need His faithful gift of forgiveness.
And He is always faithful. His love heals our hurting hearts, rebellious spirits, and selfish behavior. His gifts are perfect and His love never fails.
Oh, how generous and gracious our Lord was! He filled me with the faith and love that come from Christ Jesus. 1 Timothy 1:14
We are gifted and loved dear ones. May we be thankful for the gifts and love the Giver.