The days are long, and that July heat wraps around us like a thick blanket! It makes us want to slow down, relax and enjoy all we can from this far too fleeting season. We know from experience, how quickly it picks up speed. Before we know it, we are trailing beach sand from our flip-flops while we cruise the latest have-to items in the back-to-school aisle!
But…
Summer is for Savouring.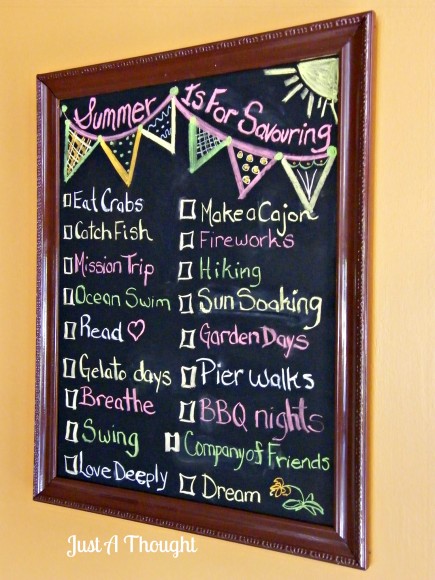 So before we have to  exchange our warm Summer days  list for the one with Fall items, can we add a few more things? These items may already be on our lists, but we might want to look at them in a new light…
Sand shovel –   For digging deeper. Using the slower-paced vacation time to dig through that book list and  your bible to uncover the wonderful love letter written for us. It's extravagant and beautiful!
Pail – Collecting treasures! Looking for God's amazing gifts of Grace. Pick up reminders of your journey with the God of the universe this summer,and bring them back to share, encourage and reflect with others!
Sunglasses – Make sure you get the right kind! They should allow you to see through the glare, to be able to focus properly and avoid misjudging, accusing, wrong assumptions  and gossip. The best kind are individually designed and fitted by God. Just ask for them, they've already been paid for.
A Deck or Lawn chair – Rest. Not the kind you wait for at the end of each busy day, but the rest that is found in God…
Yes, my soul, find rest in God; my hope comes from him. Psalm 62:5
Cool Breezes & Water – Stay cool and hydrated! Find refreshing in the cool, ever-blowing wind of the Spirit. Allow it to fan the "heated" places of your heart and heal you. Drink in the water of Life, allow it to change you… and offer it to others. Let's plunge into the river of God and splash in the delight He has  in us!
Whatever our plans and lists may look like, let's take time to savour the season. Time to slow our steps and refresh our spirits. Time to enjoy everything the God of the universe has waiting for us!
What else is on your list this Summer?