Please make sure you read to the end of the post for the details on another amazing giveaway!
*     *     *
When I think about my mom, the thing that comes to mind first is that she is a worshiper of Jesus. She was involved in leading worship at our church since I was very small. I spent many a Thursday night worship practice running up and down the aisles of the church sanctuary, hiding underneath pews, and exploring every nook and cranny of the building to the chagrin of the church custodian. As I grew older I served on my mom's worship teams playing both flute and piano, singing, and eventually leading worship under her leadership and encouragement.
It wasn't just a Sunday morning gig with my mom. My earliest memories are of her cranking up the Hosanna worship tapes on the stereo and dancing with us in the middle of the living room. She especially loved percussion and accumulated many fun percussion instruments, from congas to rain sticks and all sorts of types of shakers and gorges. We would all dig through her stash of percussion treasures and make a "joyful noise" together pounding on drums, shaking various shakers, and singing our hearts out. She carries on this noisy tradition with her dozen grandkids and doesn't mind the high decibel level their pounding and banging reaches.
Mom would sit at the piano in the middle of the week and sing. Even as an adult, she took lessons to sharpen her skill at her instrument for both leading and writing her own songs to worship Jesus. And did she ever write songs! There was always a notebook up on the piano containing the overflow of her heart and she made singing that overflow look normal and natural.
I watched her worship in the good times and the hard times alike. I remember so many times seeing her cry at the piano – her tears mingling with her fingers on the keys. I did not fully understanding the connection she was experiencing with the Lord in her brokenness until now being a mom and stealing those moments of broken worship to the Lord myself. She lived a life of bringing a sacrifice of praise and was committed to teaching and pastoring others to do the same in all circumstances. She would often counsel me –
"We don't bring our worship to God because we feel like it, we bring it because He is worthy of all our praises."
Without a doubt the most impact she has had on me in the area of worship was in this past month. On March 9th, Jesus took my dad to be with Him. While my family sat in their room praying for healing and crying together as we realized his spirit had departed, my mom worshiped the Lord in the middle of her greatest pain. She led us in the hymn inspired by Lamentations 3:
Great is Thy faithfulness, oh God my Father;
There is no shadow of turning with Thee;
Thou changest not, Thy compassions they fail not;
How Thou hast been, Thou forever will be.

Great is Thy faithfulness! Great is Thy faithfulness!
Morning by morning new mercies I see.
All I have needed Thy hand hath provided;
Great is Thy faithfulness, Lord, unto me!
At a time when many would not blame her if she accused the Lord of not being faithful, she instead declared His faithfulness in the middle of deep pain and grief. My mom has taught me that the greatest gift I have to bring my Savior is all of my worship, especially the worship that is costly. Especially the worship  that I can only give in this age where i experience lack, pain, suffering, and veiled understanding. When we see Him face to face, worship will be automatic – every knee shall bow and every tongue confess – but in this time when it is costly to bow and confess His Lordship, voluntary worship is the sweetest gift of surrender we can bring.
She has lived her life by the words of King David:
I will not offer to the Lord my God burnt offerings that cost me nothing. (2 Samuel 24:24)
This is the greatest lesson I have learned from my mom.
*     *     *
Today, we have a beautiful art print donated by Gina of Silverlakesound. One lucky winner will receive an 8×10 copy of "Growing In Love".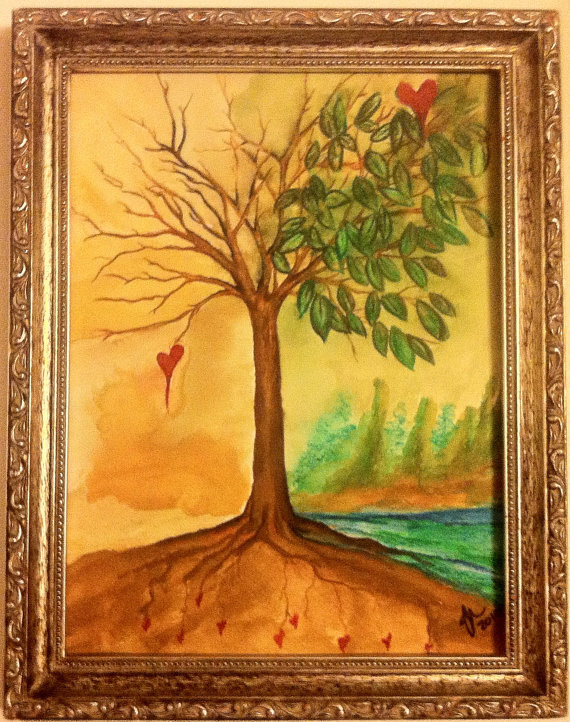 How to enter:
Leave a comment on this post, sharing a way you strive to keep worship at the forefront of your family. (MANDATORY ENTRY)
For additional entries (1 per action done):
Visit Silverlakesound on Etsy and leave us a comment letting us know what other art prints you love.
Subscribe to 5 Minutes for Faith (and tell us how you do).
This giveaway will remain open until 9PM (Central Time) on Wednesday, May 15th. A winner will be chosen using Random.org. All winners for all giveaways in this series will be notified by email and announced at 5 Minutes for Faith on Friday, May 17th. Please make sure your email address appears in the comments. (U.S. & Canada entries only.)