"Honor your father and your mother, that your days may be long in the land that the LORD your God is giving you." (Exodus 12:20)
I remember the day I discovered the real Jesus. The One who actually had something to tell me and it started with "I have loved you with an everlasting love." I was as excited as a child who had discovered a mountain of chocolate with a sign stuck in it instructing "Eat as much as you want" ! In the excitement of my new-found faith I rushed to tell my mom, who with tears streaming down her face, along with confusion, tried to understand what happened to her wild, rebellious, zealous daughter.
I came into Christianity with baggage in hand. Actually dragging a baggage cart is more like it, loaded with an assortment of luggage, full of issues, pains and beliefs that had to be gently unpacked, sorted and released.
One of those issues my God wanted to address, was my tumultuous relationship with my mother.
As I studied His word and sought His truth, it wasn't long before I started to realize this particular suitcase was full of complex memories, emotions and expectations. It was the bag that was overstuffed, crammed and locked painfully tight. Better left unchecked.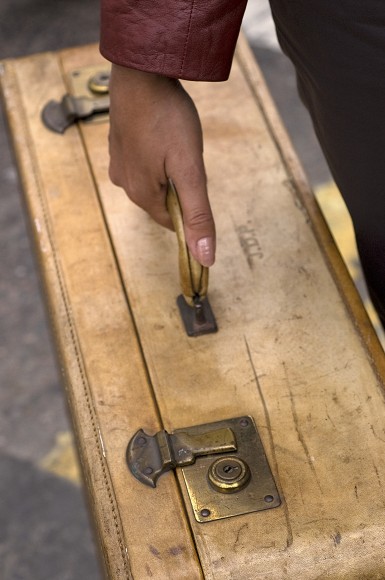 But that is not His way.
I began my Christian walk blissfully ignorant, but with one understanding that would become my saving grace. I believed His word was alive. I believed He was alive and I desired more than anything to know what this meant for me.
I read Exodus 20:12 and asked God how I could do what He asked because I was stumped. I wondered how to honor my mom, when it seemed we offended each other at every turn. At this point I had not met my father and from where I was standing I could see a whole lot of unforgiveness between my relationship with my mother and God's will for my life.
I had run away from home at 15, because I felt I was a burden to my single mother and couldn't live with the rejection and pain of feeling unloved anymore. Running away seemed better to my adolescent self.
It was 10 years before I returned home.
Deep rifts of pain and bitterness had set in for both of us. But God is the one who writes history. He had revealed Himself to this daughter in His perfect time and by His grace, mercy and truth set into motion the potential for new beginnings and hope that is eternal. Because I belong to Him, now, there can be no compromise.
God continues to bring healing and growth into my relationship with my mom. He has given us the opportunity to build many new memories of love and laughter while allowing me to learn what it means to honor my mother. I have a long way to go, but because He lives and breathes and moves in me- all things are possible.
God does not always provide us "perfect" circumstances and conditions, but He always empowers us to do as He commands.
 'Not by might nor by power, but by my Spirit,' says the LORD Almighty. (Zechariah 4:6)