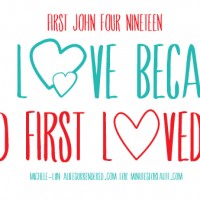 "If I don't have love, I am nothing." 1 Corinthians 13:2 NIRV
Without love, nothing? Really?
Sigh…
The chapter goes on to teach us what love is and what it is not — love is patient, kind, not rude, does not insist on its own way, is not irritable or resentful, or easily angered
Sigh...
These last few weeks I've struggled with my determined child. In the height of emotion and frustration, anger words I can never regain — were released. And my actions and my words were contrary to the "is and nots" of love defined by His Word, by His life.