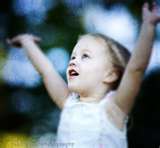 I cannot remember the day my oldest daughter Megan stopped wanting me to carry her. What I do remember is being a bit stunned when I went to wake her up one morning…
I rubbed her back gently and readied myself to lift her from her bed, but she hopped up and stumbled sleepily into the living room by herself. A small declaration of independence, yet one that left this momma's heart reeling.
So when my nine-year-old lifted her arms for me to carry her one morning last week, I quickly scooped her up with joy. Her long, lanky legs bumped gently against my own as we made our way down the hall. I squeezed her tight and relished the sweet moment of closeness, unsure of when she would ever ask again.
As I set her down gently in her favorite chair, a question began to stir in my heart for the Lord. "Father," I whispered, "when I have spent day upon day trying to do everything in my own strength and then I finally turn to You and ask You to carry me, does Your heart delight to scoop me up, too?"
Because, you see, my heart did delight in her request. I did not deny her out of hurt feelings. I did not hesitate with an attitude of "Well, you've been walking just fine for a while now so you just march your own little self on into the other room."
No, I lifted my girl right up and held her close, thankful she had asked.
Isaiah 30:18 leads me to believe God responds to me in much the same way:
"Yet the Lord longs to be gracious to you; he rises to show you compassion. For the Lord is a God of justice. Blessed are all who wait for Him!" (NIV)
In this verse, the Lord is longing to be gracious to Israel. He wants to help, but Israel has been looking to Egypt for hope and salvation instead of Him. And so God waits. He waits for them to lift up their arms and cry out for Him to come to their rescue. He lets them choose to do things on their own, but He longs to show them compassion. He longs to do the same for us, as well.
How I need this tender reminder. I can be so guilty of plowing through day after day on my own. I hurry and scurry and worry, only to end up exhausted and frustrated. Especially right here at Christmas. So today I will pause. I will stop my running about. I will lift my hands to the Lord and ask Him to please carry this weary heart. I can imagine Him lifting me into His strong embrace and whispering in my ear He's so glad I finally asked.
How about you? Do you need the Father to scoop you up today? Just ask. He's longing to hear from you, too.