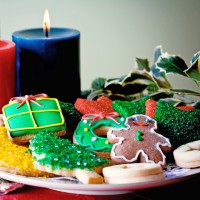 "Martha, what do you think of the idea that we throw a nice Christmas party instead of giving each other gifts?" Mary asked her college roommate.
"That's a great idea!" responded Martha. "I love having a special occasion to try new dishes, and it will be fun to invite a few good friends over and have an excuse to dress up."
Mary and Martha chose a date, looked through cookbooks and planned the menu. Mary decided on a couple of family-favorite cookie recipes and Martha chose a couple of hot appetizers and a chocolate mint ice cream cake (with a from-scratch brownie base and homemade hot fudge) she wanted to try.
They worked together on the guest list, chosing about a dozen people who would be a fun group to bring together. A small, tastefully decorated tree and twinkle lights added a festive air to their cozy apartment.
The day of the party, Martha hurried home after work to make a centerpiece, set the table, prepare the rye-bread pizzas and put the finishing touches on the ice cream cake.
Mary got home about two hours before their friends were due. She put her cookies on plates and some candy in dishes and headed upstairs to shower and dress for the party. She came down just as the doorbell announced the arrival of the first guest.
Martha dashed upstairs while Mary answered the door. She ran a brush through her hair and threw on her party outfit, hoping the effort she put into everything else for the party would distract people from her own lack of primping.
Martha busied herself keeping trays and punch bowls filled. Between trips to the kitchen, she caught glimpses of Mary chatting with friends and leading the games they'd planned. When Martha realized a couple guests had arrived without a gift for the 'white elephant' exchange, she went upstairs and rummaged through the closet for a couple things to put under the tree so no one would feel left out.
As the party wound down, Martha served the dessert she'd spent two days preparing and assembling. Everyone commented how good everything was and what a great time they'd had.
Mary left to give a friend a ride home while Martha and Randy, a friend who stayed behind, started cleaning up. With everyone else gone, Martha had a hard time hiding her frustration over how the evening had gone.
"Mary had time to shower and get fixed up while I was down here making sure everything was ready. I barely had time to change my clothes!" Martha slammed the refrigerator.
"And did you notice that she never even crossed the threshold of the kitchen once the party started?" Randy had no opportunity to reply as Martha continued, "I had to serve all the food, mix more punch, get gifts for the exchange…I feel like I missed the whole party and she didn't help at all. Even now, she's not helping, she's off visiting some more!"
"But Martha," her friend interjected, "You could have let someone else make the punch. And whoever didn't bring a gift would probably have been ok not doing the exchange. Maybe Mary had the right idea spending time with the people you cared enough to invite rather than worrying about whether everything was perfect."
Martha wanted to argue the point that her roommate should have helped more, but there was something about Randy's words that rang true and familiar…
"As Jesus and his disciples were on their way, he came to a village where a woman named Martha opened her home to him. She had a sister called Mary, who sat at the Lord's feet listening to what he said. But Martha was distracted by all the preparations that had to be made. She came to him and asked, "Lord, don't you care that my sister has left me to do the work by myself? Tell her to help me!"

"Martha, Martha," the Lord answered, "you are worried and upset about many things, but few things are needed—or indeed only one. Mary has chosen what is better, and it will not be taken away from her." Luke 10:38-43
The tale above isn't simply a modern paraphrase of that well-known passage. It's a true story. Names have been changed to draw a parallel–and to illustrate the point that even though my name is Mary, I was a complete Martha that evening.
This time of year, maybe more than any other, we face the temptation to try to make everything 'perfect.' We do it with the best intentions–the shopping, decorating, cooking, wrapping, giving, sharing–is done because we care about the people in our lives and want it to be a special time of year.
And yet, sometimes we miss the best part–the very people who are so important to us–because we're lost in the details. Details that no one else is even likely to notice, let alone miss.
As you look over your "to-do" list for the coming days and start to feel overwhelmed with all you want/plan/hope/are committed to do, take a minute to remember why it's important. If you're feeling overloaded, drop something.
* Will anyone really notice if the cookie trays only have 3 kinds instead of 4?
* Do you really need to make a Christmas treat for each support person at the school or neighbor?
* Maybe spending an evening looking at Christmas lights with your family would make a more lasting memory than spending that same time shopping for more stocking stuffers?
May this Christmas be filled with the blessings that come from "choosing the best part," and remembering that all of the plans, preparations and parties are really to welcome the Guest of Honor the other Mary and Martha hosted so long ago.