Okay, I'm certain that statement makes me sound a little crazy, but trust me, it's a personal object lesson in Faith. I am inclined to get agitated by the little things, e.g., misplaced keys, lost documents, items I just had my hands on. Oddly enough, the bigger things I am adept at managing. Trust me, when disaster rolls in, I'm your go-to girl. But it's the little things, conversations I anticipate will be difficult, silly things that manage to get under my skin, waiting for information beyond my control, until I decided to get a handle on them, those lost things would have been my undoing.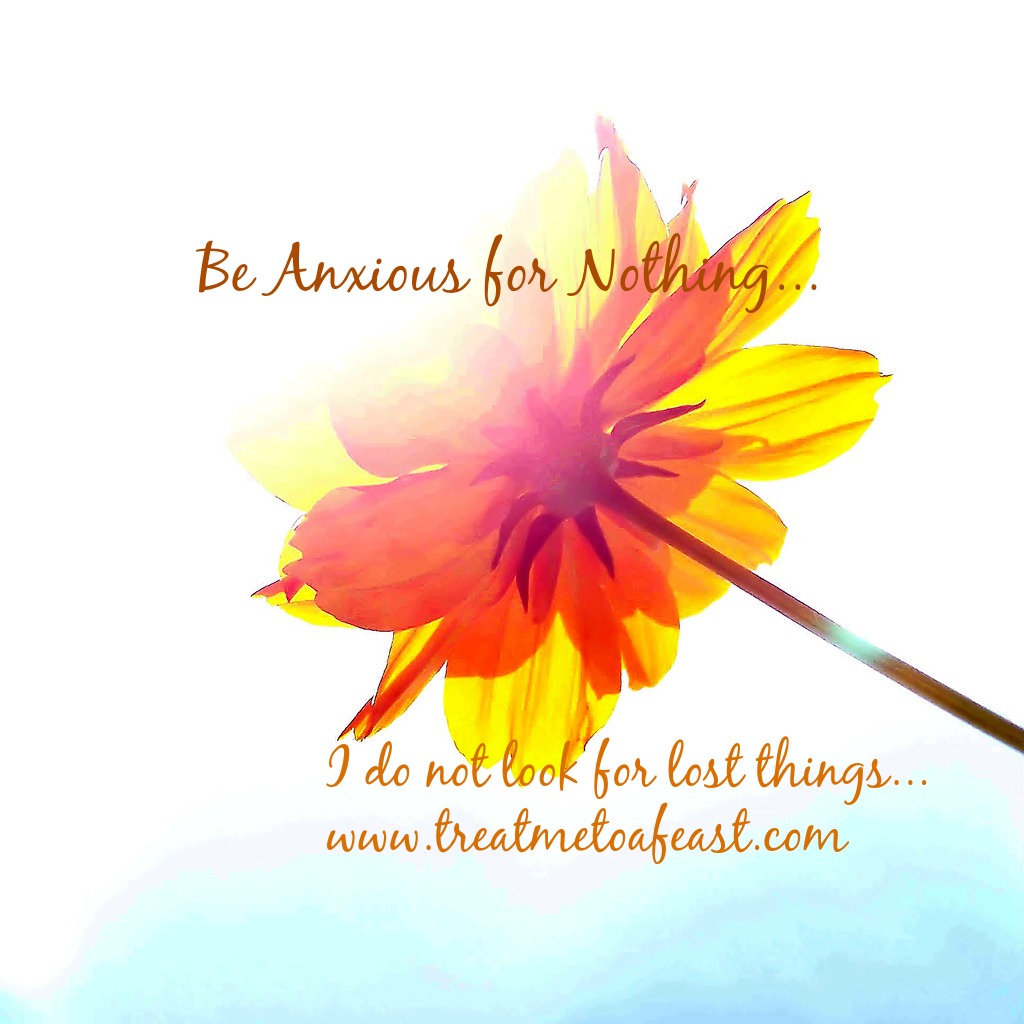 I remember being a little puffy, probably as a result of too much rich food on a business trip to San Francisco. Am I the only one who makes reading restaurant reviews part of travel planning? Anyway, I was packing to return home, preparing to check out of my hotel suite when I realized that my engagement ring was fitting a little too snugly. Carefully, deliberately, I pinned the ring to the lapel of a suit I'd packed, and then promptly forgot about it.
I returned home, unpacked my bags, returning to my regular routines. A few days later when the swelling diminished, I realized I didn't have my ring. I panicked. I was also a little heartbroken at the thought that a token with such great sentimental value was lost to me. Immediately, I prayed that God would suffuse me with Peace and provide clarity, AND, and this is the important part, I let it go.
Be anxious for nothing, but in everything by prayer and supplication, with thanksgiving, let your requests be made known to God; and the peace of God, which surpasses all understanding, will guard your hearts and minds through Christ Jesus. Philippians 4:6-7 (NIV)
We are taught to take our burdens to the Lord and leave them there. Somehow, for some reason, God moved powerfully in my life through that experience. The lesson was Trust. Not much later, with a clear mind, having diligently thought NOT AT ALL about the lost ring, I walked confidently to the closet where I'd hung the suit, retrieving the ring from it's safe, albeit forgotten, location and there it was.
I celebrated that day; I worshiped. I appreciated the value of that lesson to me to trust God, even in the little things; to be anxious for nothing. We are clear that the big things are beyond our control. We cannot change illness, we cannot prevent disasters, we cannot forestall death…But God. We can trust Him, not to solve our problems, but to take our burdens to the Throne of Grace, deposit them, and be filled with His Peace.
I do not look for lost things. I pray and walk away. Sometimes it is easier than others, but my blessing, every time I am obedient, is Grace. Every time. Occasionally, it also means the restoration of things once thought lost, to God be the Glory.