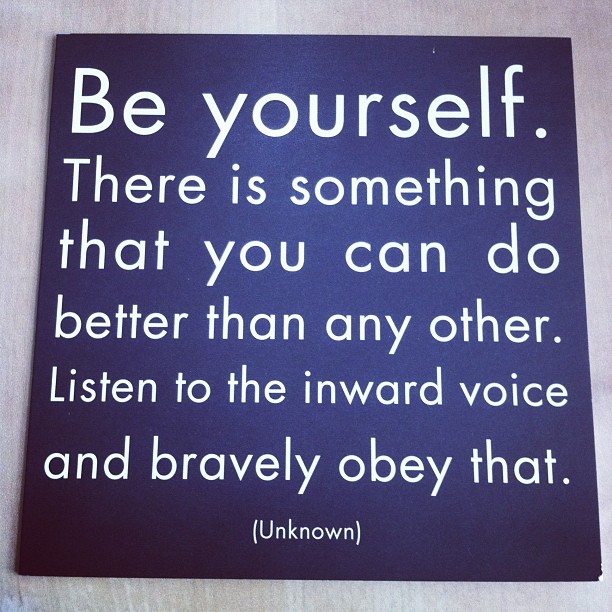 At a time when just being a young black man in America is enough to get you killed—you know what I'm talking about, you've read the headlines—I wonder what the other mommies tell their sons. All mommies worry about their sons, don't they? All mommies tell their sons to be careful, to be respectful, to stand up for themselves, walking in the Truth of God in whose image they are made, right? Are other mommies afraid for their sons?
Here is what I know of fear. I am sufficiently realistic to acknowledge that I will never be free from them. However, I declare that they are not the boss of me, and will never paralyze me to the point of immobility. Neither will I parent in response to fear. Fear is part of life. The trick is not to let it own you. So, while I do wonder what the other mommies tell their sons, this is what My Beloved and I tell ours, and it is this.
Be who you are…
I am always grateful for confirmation, and I know that there are times when one Word speaks volumes. In a single week, I heard the same message from God delivered several different ways.
Be who you are…
It was delivered in an image-Be yourself, delivered in a Sunday sermon, and spoken in a comment someone shared with me during a conversation a day or two later. Clearly this is something I need to pray about in raising our son…
 Be who you are…
John the Baptist was no diplomat. In preaching Luke 3:9,  preparing humanity for Christ, he had a frank perspective on this world in its current, sorry state. Matthew Henry explains,
The guilty, corrupted race of mankind is become a generation of vipers; hateful to God, and hating one another. There is no way of fleeing from the wrath to come, but by repentance; and by the change of our way the change of our mind must be shown. If we are not really Holy, both in heart and life, our profession of religion and relation to God and his church, will stand us in no stead at all; the sorer will our destruction be, if we do not bring forth fruits meet for repentance.
It's time to make a declaration of intent, as a woman, as a mother, as parents raising young men and young women in America …it's time to be who you are.
The length of our days and those of our children are unknown to us; we'd be wise to use them well. None of us should ever be unclear about that which we believe. As professed children of God, we are obligated to reflect His Glory. The Light does not come from us, but if we fail to let it shine, someone seeking the God in us might not see. We are called to the Great Commission. We have work to do. The warning in failing to do the work in Luke 3:9 is clear…the axe is laid to the root of the trees. Every tree therefore that does not bear good fruit is cut down and thrown into the fire.
Even in the face of my fear, living in a scary time in a scary world, I am not prepared to volunteer for that kind of condemnation. Therefore, in spite of my fear, I'm offering this advice to all the mommies of all the sons. Let us be, and let us teach our children to be who they are; Whose they are.
Who are you?