Susan, co-founder of 5 Minutes for Mom, here to let you moms with babies or toddlers know about an app that offers pure, wholesome music and educational videos. This post is sponsored… which as you may know is extremely rare here on 5 Minutes for Faith.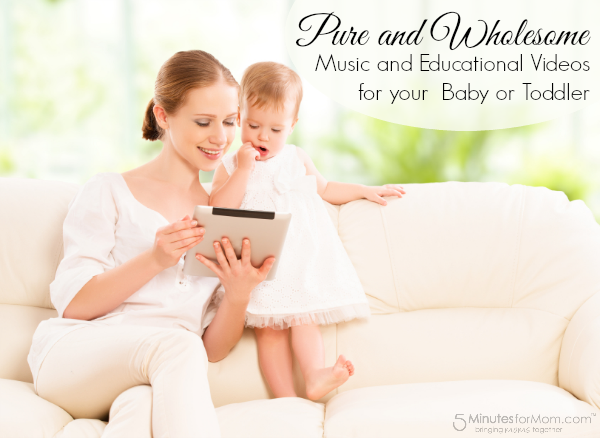 Baby's Brilliant is an app designed specifically to soothe and engage babies and toddlers with musical and educational videos. Unlike sites like YouTube which contain inappropriate videos and are loaded with ads, Baby's Brilliant only includes pure and wholesome content.
They have specifically selected and recorded many religious songs for parents to share with their little ones.
For parents with multiple children of various ages, this app can help engage your baby or toddler for a little while during your busy dinner preparation time or when you're focused on helping with homework.
Baby's Brilliant can put your mind at rest knowing your child is being entertained with classical music and inspiring images.
The free Baby's Brilliant app features:
Movies – Offerings include beautiful images and scenery from around the world and are accompanied by classical music in the background. Babies and toddlers are introduced to language in a fun and meaningful way. You can select the movies you want your baby to watch and arrange the order of play. The movies are also available in Spanish and Chinese.

Music – Faith based music, inspirational music, lullabies, popular children's songs and a variety of classical music from some of the world's most beloved composers, including Mozart and Bach.

Night Lights – A gentle combination of music and visuals that will help your little one fall asleep quickly. You can customize the order of play, create your own playlist and loop it for up to 90 minutes, giving your child ample time to fall asleep.
The app is free and each download is 99 cents.
I think you'll find this is a really wholesome and versatile app to help keep your children engaged and learning at home or on the go.
You can watch these videos or visit their Youtube channel for more information!
You can download Baby's Brilliant on iTunes for your iPhone or iPad and visit their website or blog. You can also follow them on Facebook, Twitter or Pinterest!