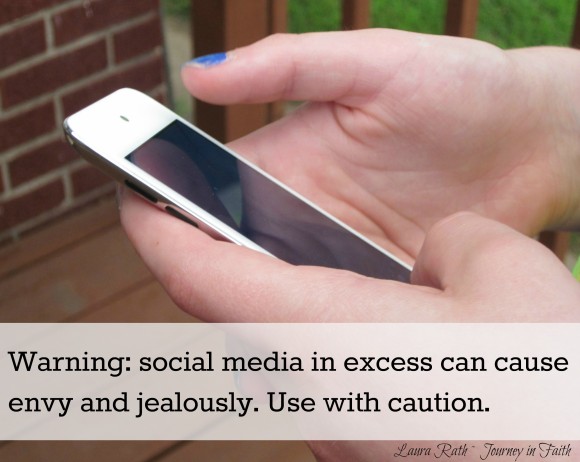 Have you ever scrolled through your Facebook news feed and wondered why you felt kind of down?
Maybe you got on to quickly check in with a friend or to post a note and picture about what you're up to. But, you find yourself scrolling…a quick "like" here…a brief comment there…and you notice something has changed.
Your thinking has changed from That's a great picture of my friends, to That looks fun. I wish I could do that.
What beautiful scenery! turns to I'll never get to go there.
I'm glad she finally got to visit there. becomes Must be nice!
You get the picture. (no pun intended)
Social media has its place. Keeping up with friends and family and sharing pictures can be great. It's fun to see what others are doing, right?
But sometimes, social media can be too much. In fact, maybe it should come with a warning label:
Warning: social media in excess can cause envy and jealously. The potential exists to change your good mood to a sour disposition, which can then be projected on others. Use with caution.
We think we can handle it, don't we?
Until we can't.
Here are a few tips I've been practicing…
1) Give yourself permission to reduce (or eliminate) your social media time. You are not required to keep up with others in how much you interact online. If someone questions your lack of presence, simply explain you've decided to spend less time there. If they don't like it, who cares?
2) Pay attention to what you're thinking and how you feel. If you feel a shift in your mood, log out of wherever you are. Better yet, log out before your mood changes. It takes practice and discipline, but it is worth it. Remember, you have a choice in social media—no one is making you scroll through Facebook to the point of depression.
3) Find something else to do. You may feel like something is missing, and it is because that's how you are used to spending your time. Depending on how bad the addiction is—and yes, social media can be an addiction—there will be a period of withdrawal. Remind yourself that you are not required to check in with others via e-mail or social media around the clock. If you have notifications pushed to your phone, turn them off. Make the choice to check statuses on your own time—not everyone else's.
It gets easier. Really, it does.
And you may realize two things in the long run…you don't miss it as much as you thought you would…and your friends and family are a lot more interesting over longer intervals of time.
What has been your experience with social media—do you find yourself needing to scale back?