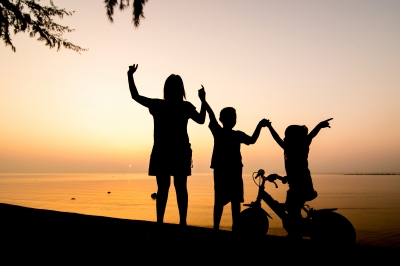 Wednesday morning, our eldest (aka The Princess) came downstairs and greeted me, warmly, for the first time, as "high school mom." Her brother, (aka The Professor) moved up from middle school and will be a member of next year's freshman class. He and his sister will spend one year in school together before she graduates high school in June.
It occurred to me that there are (at least) three phases of motherhood. There are the "moms of littles" years, the "mothers of grown children" years, and, my current situation, living as a Mid-Life Mama. My husband and I are raising teens, and I find the experience of being here remarkable.
I find the experience remarkable because it mirrors so much else about my life at this time. Parenting teenagers involves learning to let go. Our youngest has left the safety of middle school for high school; his sister is now a rising senior preparing to take on the world. I cannot always hold their hands and guide their every steps like we did when they were toddling, but neither are they ready to be released onto the world (do mothers ever fully release their hold on their children?). I find myself in the bittersweet position of Dr. Dolitte's Push Me Pull You, leaning in and stepping back simultaneously. It is a curious dance.
There is neither manual nor support group for navigating the teen years. I'm not really a manual or support group kind of girl, but you know what I mean. I routinely reach out to my own mother, who remains my example of mothering Godly, Cool, and Elegant-even under pressure (that is what I strive for). I cannot fully articulate the blessing of having her as a sounding board and resource, but I can also appreciate that her context differs greatly from my own. There are friends, either just ahead of me with their own children, or just where I am, and we stumble along together. I am mindful, however, of My Father's reminders that I am never without good counsel.
Esther, among my favorite biblical examples of Godly, Cool, and Elegant-even under pressure, teaches us that God equips whom He Calls. According to one biblical commentary written by Thomas Klock of Harvest Ministries, the Book of Esther contains great lessons about how we should be living, conducting ourselves on the job, facing opposition, facing success, and looking ahead confidently to the future. Most importantly, it is the best "textbook" of the Scriptures about the providence of God, and how He works in the perfect way and the perfect timing to accomplish His purposes.
My Heavenly Father reminder us that we are never without good counsel.
You will keep in perfect peace those whose minds are steadfast, because they trust in you. Trust in the Lord forever, for the Lord, the Lord himself, is the Rock eternal. Isaiah 26:3-4 (NIV)
Where Esther ends, the Prophet Isaiah begins. Why stress over any circumstance, over setting boundaries, over whether or not to say "No" in love, in modeling the Grace by which we live by offering it liberally. The Word of God reminds us that we are covered.
So, how does one approach mid-life mothering? Fully enrobed in Grace. Grace derived solely from leaning on the Everlasting Arms. Do you know any teenagers? Then you know what I mean. Living successfully with teenagers means giving and receiving Grace in abundance.
I am praying to remember this once summer ends and the craziness of both the first and the last year of high school descend upon our home. I will rely upon Esther's example whereby He provides for all our needs, and Isaiah's assurance that if we keep our minds stayed on Him, our Grace comes in the form of Perfect Peace.
I offer this Godly wisdom to people all the time, but clearly, I haven't been listening myself. Why do we worry? Our worry serves no purpose and furthermore, we are not in control, certainly not in the midst of Mid-Life Mothering. For me now, for all of us at every stage, we must give it over.